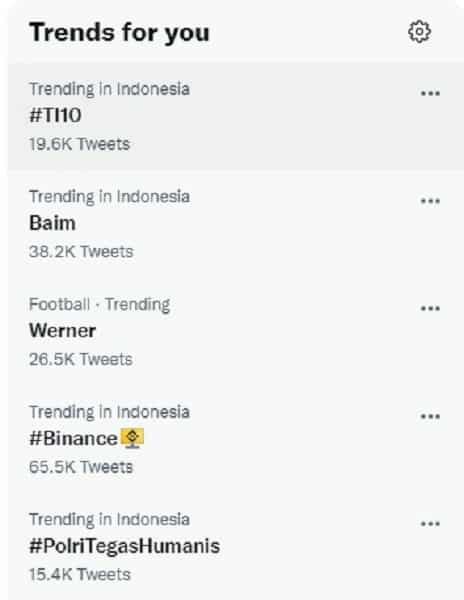 Turnamen internasional Dota 2, TI10, sudah memasuki babak main event, dan berhasil menyetuh top trending Twitter di Indonesia.
Siapa sangka ternyata turnamen The International tahun ini bisa banyak mencapai angka yang sangat besar, dari segi peak views, jumlah viewers, dan sekarang bahkan masuk ke dalam top trending.
Bagi yang belum mengetahui, sekarang ini TI10 sudah memasuki babak main event, babak di mana para tim akan memperebutkan slot untuk masuk ke babak final untuk mendapatkan total prize pool sebanyak $40 juta USD.
Tentu kalian penasaran bukan dengan apa penyebab turnamen ini bisa begitu besar sampai bisa masuk ke dalam top trending di Twitter Indonesia bukan?
BACA JUGA: Komentar Xepher Usai T1 Lolos ke Upper Bracket TI10
TI10 Menjadi Top Trending di Twitter Indonesia
Ternyata turnamen internasional Dota 2 ini begitu menarik perhatian banyak sekali warga Indonesia, dapat dilihat per tanggal 12 Oktober 2021, #TI10 berhasil masuk ke dalam top trending di Twitter dengan 19,6 ribu tweets pada pukul 16.30 WIB.
Siapa sangka ternyata peminat Dota 2 di Indonesia bisa sangat banyak, dan mungkin memang ada beberapa alasan netizen Indonesia sangat tertarik untuk melihat turnamen besar ini.
Ada Pemain Asal Indonesia
Ingat, bahwa TI10 kali ini merupakan turnamen The International pertama yang memiliki dua pemain asal Indonesia, Xepher dan Whitemon yang berpartisipasi bersama dengan tim T1, asal Korea Selatan.
Tim tersebut sudah berhasil mengamankan upper bracket di main event TI10 setelah mengalami penurunan performa di hari-hari pertama TI10 pada group stage.
Seketika T1 pun berhasil menaikkan performa mereka sampai akhirnya bisa menempati posisi di top 4 grup mereka, dan lolos ke upper bracket, bertemu langsung dengan PSG.LGD.
Hal ini tentu menarik perhatian banyak sekali penggemar Dota 2 dari Indonesia, setelah penantian yang cukup lama, akhirnya Xepher dan Whitemon berhasil membangkitkan scene Dota 2 di Indonesia.
BACA JUGAl Bracket Main Event TI10, T1 Hadapi Tim Favorit Juara
Sudah Tertunda Selama 1 Tahun
Dikarenakan pandemi Covid-19, turnamen yang seharusnya dilaksanakan pada tahun 2020 terpaksa tertunda. Hal tersebut pun membuat para penggemar Dota 2 pun menunggu sangat lama.
Faktor ini membuat para penonton yang sudah menunggu selama 1 tahun langsung menghempaskan waktu mereka untuk menonton pertandingan yang sudah tertunda ini.
Dengan prize pool yang sudah sangat besar pun, tentu perebutan gelar juara di season kali ini akan lebih seru dibandingkan dengan season-season sebelumnya.
BACA JUGA: Hari Pertama TI10 Sukses, Hampir Lampaui Jumlah Penonton Final TI8!
Ikuti linimasa RevivaLTV di YouTube, Instagram, Facebook dan Revivalpedia untuk mendapatkan informasi-informasi terbaru seputar esports.
Editor: Rafdi Muhammad
Related