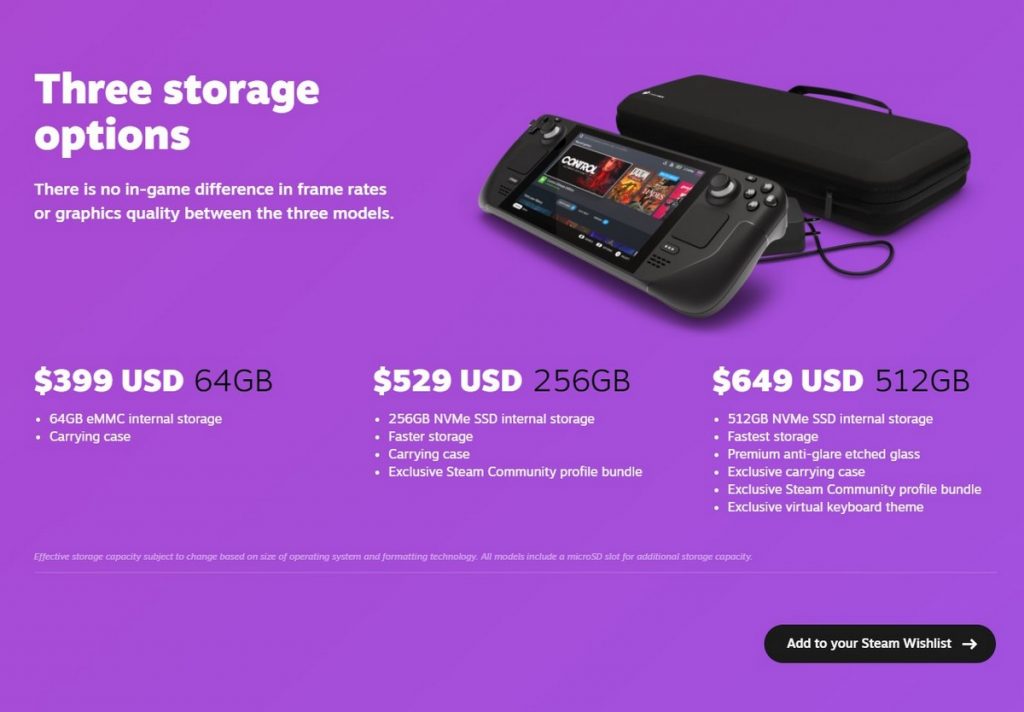 Setelah banyak rumor yang beredar soal Valve akan buat konsol berbentuk Nintendo Switch kini akhirnya mereka mengumumkan, Steam Deck.
Steam Deck ini adalah jawaban Valve atas rumor-rumor tersebut, yaitu sebuah PC Gaming yang dibuat layaknya berbentuk konsol Nintendo Switch.
Steam Deck buatan Valve ini akan dirilis dalam bentuk 3 versi penyimpanan yaitu 64GB, 256GB dan 512GB.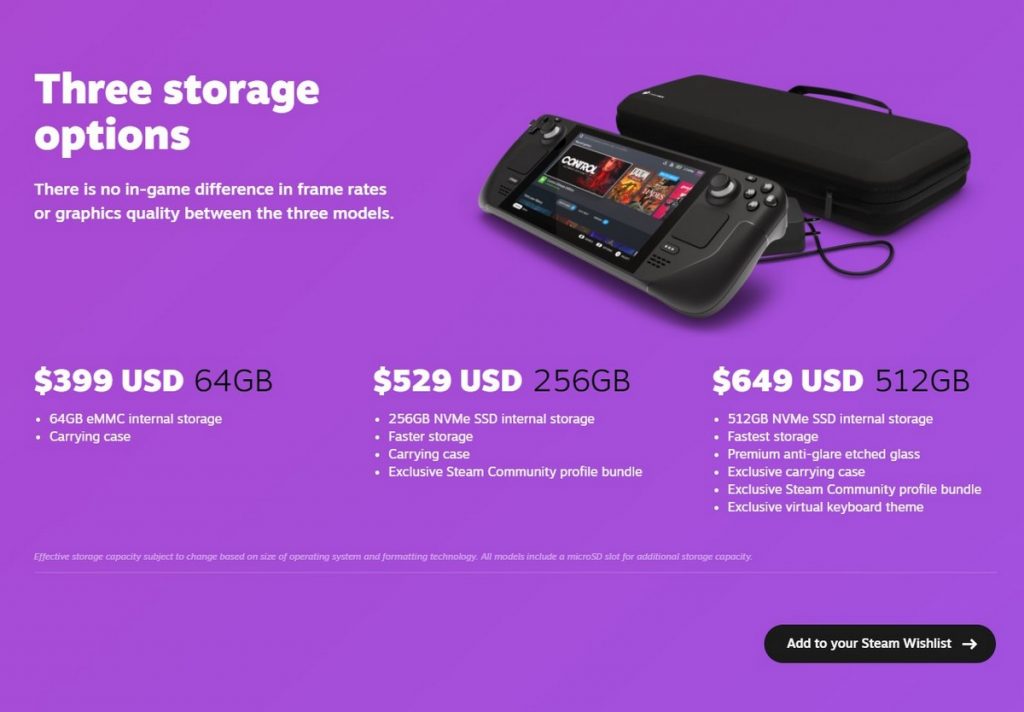 Daftar harga Steam Deck dengan berbagai varian penyimpanan:
64GB eMMC : Sekitaran Rp. 5,8 juta.
256GB NVMe SSD: Sekitaran Rp. 7,7 juta.
512GB NVMe SSD: Sekitaran Rp. 9,3 juta.
Dari harga-harga di atas, masing-masing menawarkan ukuran dan teknologi penyimpanan yang berbeda-beda. Untuk spesifikasi termurah akan mendapatkan penyimpanan eMMC saja, sedangkan yang lainnya mendapatkan penyimpanan NVMe SSD dengan harga yang lebih mahal.
Steam Deck sudah memulai masa pre-order, namun konsol ini baru bisa kalian terima dan mainkan paling cepat sekitar bulan Desember 2021 mendatang.
Teknologi yang ditawarkan Steam Deck ini sendiri terbilang cukup modern. Bagaimana tidak? Valve bekerja sama dengan AMD untuk membuat prosesor untuk Steam Deck ini sendiri.
Spesifikasi Steam Deck:
AMD APU.
CPU: Zen 2 4c/8t, 2.4-3.5GHz (up to 448 GFlops FP32).
GPU: 8 RDNA 2 CUs, 1.0-1.6GHz (up to 1.6 TFlops FP32).
APU power: 4-15W.
BACA JUGA : Lebarkan Sayap, Netflix Segera Menjadi Developer Video Game
Valve juga dikabarkan akan memasang OS khusus pada PC gaming portabel ini yang hanya bisa menjalankan aplikasi Steam saja. Namun, CNET mengatakan kalau pengguna bisa saja wipe seluruh isi Steam Deck lalu meg-install Windows di dalamnya.
PC gaming portable ini juga dikabarkan dapat menggunakan dock namun berbeda dengan Nintendo Switch. Pengguna bisa melakukan docking dengan menggunakan kabel USB Type-C jenis apapun. Steam Deck ini juga mendukung mouse dan keyboard sebagai inputannya.
Sudah adakah sobat RevivaL yang membeli Steam Deck ini?
Ikuti linimasa RevivaLTV di YouTube, Instagram, Facebook dan Revivalpedia untuk mendapatkan informasi-informasi terbaru seputar esports.
Editor: Rafdi Muhammad