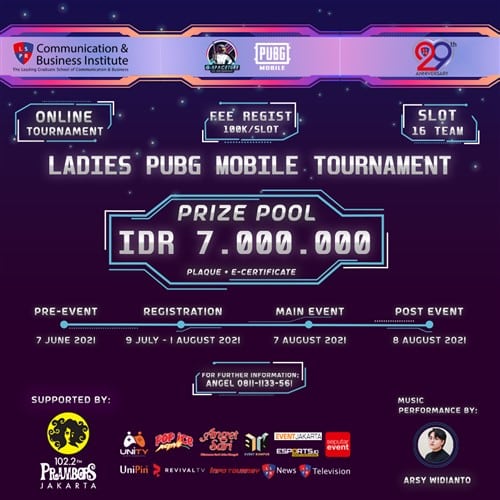 LSPR Communication & Business Institute telah mengadakan acara Ladies PUBG Mobile Tournament dan Talk Show : G-Spaceture 2021 yang sudah selesai diselenggarakan.
Turnamen ini dibuat jurusan oleh mahasiswa dengan jurusan marketing communication. Marketing Showcase merupakan salah satu mata kuliah semester 6 jurusan Marketing Communication, yang dimana siswa/i diwajibkan untuk membuat sebuah project besar.
G-Spaceture merupakan turnamen esports yang dikhususkan untuk para perempuan yang memiliki kegemaran terhadap game online, di mana Indonesia juga sedang berusaha untuk memberikan kesempatan kepada pemain ladies untuk berkembang.
BACA JUGA: Listy Chan Ungkap Keinginan Kembali ke Pro Scene
G-Spaceture 2021!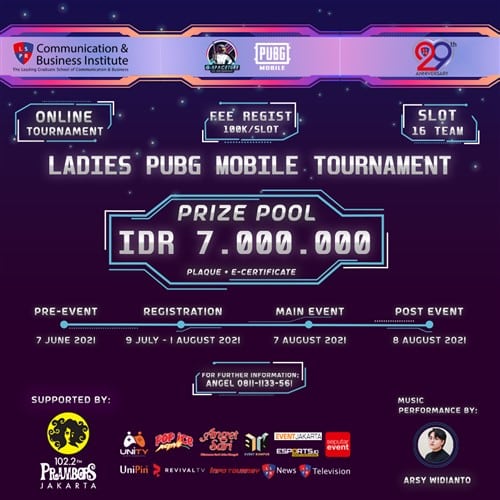 Saat ini permainan yang diselenggarakan oleh G-Spaceture merupakan turnamen esports PUBGM yang disiarkan secara langsung di Youtube LSPR TV pada tanggal 7 Agustus 2021 bersama Dave dan Ole sebagai caster profesional. Sebanyak 16 tim pemain turnamen bersaing, diantara nya adalah:
AEROWOLFDEN
AWESOME KYUTT
BKB ESPORTS
DMS FEMALE
EAGLE 365 POWERPUFF
FIREHAWKS
GSPACE ALECTRONA
HERTZ
HEXORION AB
ICIS NONA
NOMINOUS EVO
ROBBERS SQUAD
SABRINA ASTERIA
SUNNY SIDE
TAKAE SPADE
VOUX LADIES
Selain mengadakan turnamen, mereka juga melakukan webinar dengan tema Beyond The Future, mendatangkan Bapak Ari Juliano Gema, Staf Ahli Menteri Bidang Reformasi Birokrasi Dan Regulasi, Kementerian Pariwisata, Ekonomi Kreatif dan Anisa Rahim, Talent of Onic Sports.
BACA JUGA: RRQ Ryu Tampilkan Wajah Baru di PMPL ID Season 4
Webinar ini telah memiliki pendaftar sebanyak 540 peserta. Dengan adanya webinar ini, diharapkan dapat memberikan edukasi kepada masyarakat khususnya perempuan yang memiliki kegemaran game online bahwa mereka dapat berkarir dan berprestasi dalam bidang esports. Arsy Widianto juga diundang untuk meriahkan acara ini.
Pengumuman pemenang dilakukan tepat setelah acara berakhir, dengan juara 1 diraih oleh Eagle 365, mendapatkan total hadiah sebesar Rp 2.000.000 dan Rp.2.000.000 UniPin credits.
Icis Nona dan Hexorion berhasil berada di bawa Eagle365 dengan tentunya mendapatkan hadiah juga. Tanpa disangka ternyata ada beberapa tim pemain profesional yang ikut serta dalam turnamen kampus ini lho!
Ikuti linimasa RevivaLTV di YouTube, Instagram, Facebook dan Revivalpedia untuk mendapatkan informasi-informasi terbaru seputar esports.