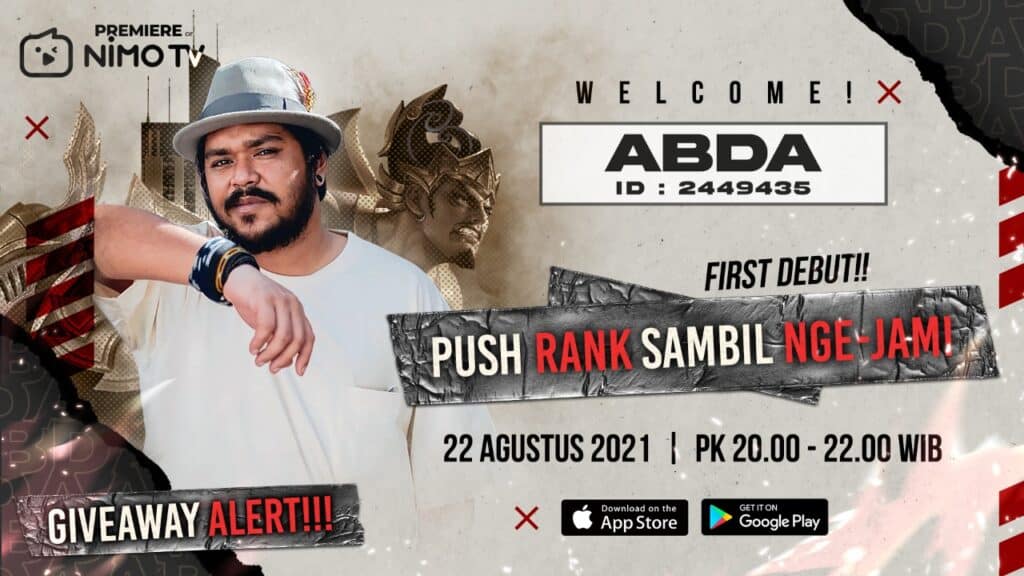 Ada banyak cara seorang gamer untuk menikmati game yang disukainya, seperti dengan menunjukkan permainannya kepada orang lain melalui live-streaming atau sebaliknya, menonton orang lain dalam bermain. Satu musisi ABDA debut dengan bintang RRQ yaitu Queen.
Nimo TV merupakan wadah bagi gamer yang gemar live-streaming, baik menonton atau ditonton. Di Nimo TV, ada banyak streamer berbakat yang dapat ditonton oleh pemirsa. Di antara para streamer yang telah bergabung di Nimo TV, ada nama-nama besar dari dunia esports, seperti Donkey Bar Bar, Oura, hingga para pro player yang masih aktif di ranah kompetitif, antara lain Wannn, Antimage, Alberttt, Vynnn, Xinnn, dan masih banyak lagi.
Platform live-streaming game dan esports yang digemari oleh gamer Indonesia ini akan menambah daftar streamer bintangnya dengan bergabungnya ABDA, penyanyi berbakat yang dikenal dari sebuah ajang pencarian bakat menyanyi pada tahun 2018.
Dalam kariernya di dunia musik, ABDA sudah mengeluarkan setidaknya beberapa single, yaitu Yang Terbaik, Coming Home, Bukan Cintaku, Tell Me Something, Up To The Sky, dan yang terbaru di tahun 2021 berjudul Gold.
BACA JUGA: Fantech Rilis Mouse Special Edition Kemerdekaan Indonesia!
Pria kelahiran Kupang, 31 Mei 1993, bernama asli Ahmad Abdullah Baladjam dan sebelumnya dikenal julukan Abdul Idol ini akan memulai debutnya di Nimo TV pada 22 Agustus 2021, jam 20.00 WIB.
Pada siaran pertamanya, ABDA akan main bareng (mabar) dan push rank Mobile Legends: Bang Bang (MLBB) dengan RRQ Queen. Selain main game, Abda juga akan nyanyi bareng dengan para pemirsanya.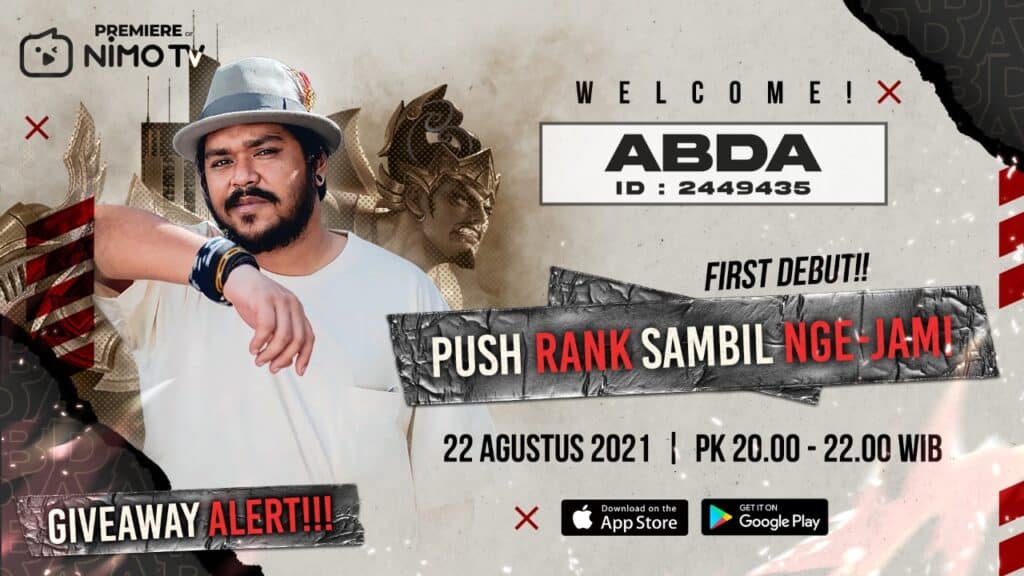 Kemeriahan debut ABDA di Nimo TV juga bakal semakin seru karena akan ada giveaway skin hero Mobile Legends: Bang Bang dalam live-streaming tersebut untuk para pemirsa sekaligus penggemarnya.
Jangan sampai lewatkan debut ABDA di Nimo TV ini karena akan ada beragam keseruan yang bisa kamu rasakan serta hadiah dari giveaway apabila beruntung!
Buat kamu yang penasaran dengan debut ABDA dengan RRQ Queen bermain Mobile Legends, bisa melihatnya di sini: https://www.nimo.tv/itsmeabda
Ikuti linimasa RevivaLTV di YouTube, Instagram, Facebook dan Revivalpedia untuk mendapatkan informasi-informasi terbaru seputar esports.