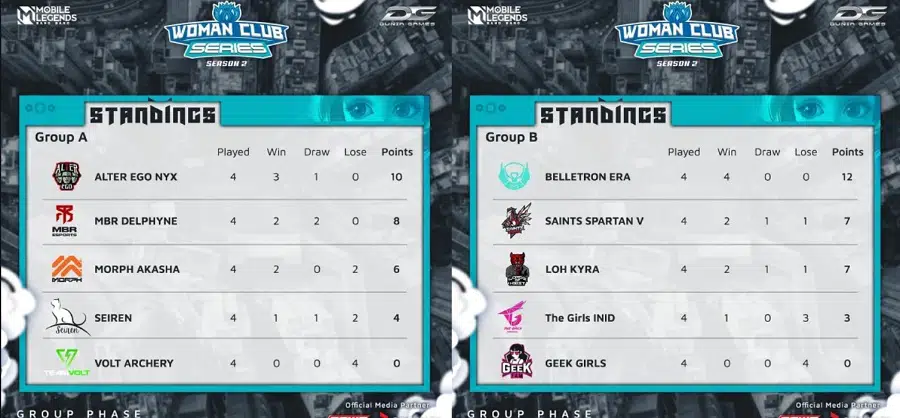 Babak playoffs Woman Club Series (WCS) Season 2 sudah akan dimulai sebentar lagi, dan 8 tim sudah terpilih untuk berkompetisi dalam ajang Mobile Legends ladies ini.
Turnamen ladies Mobile Legends kembali hadir dan sekarang 10 tim telah berkompetisi dalam WCS Season 2 yang sudah melewati babak Group Stage baru-baru ini.
Sudah terpilih 8 tim dari 2 grup yang telah dimainkan dari dari tanggal 25 Agustus 2021 kemarin, untuk memperebutkan Top 4 di setiap grup untuk lolos ke babak playoffs.
BACA JUGA: Ini Alasan Xin Pindah ke Gold Lane di MPL Season 8
Tim yang Lolos Masuk Babak Playoffs WCS Season 2
Setelah berhasil melewati babak Group Stage di mana Alter Ego Nyx berada di peringkat pertama Group A, dan Belletron Era di Group B, sudah terpilih 8 tim yang berhasil lolos.
Kedelapan tim tersebut antara lain:
Alter Ego Nyx
MBR Delphyne
Morph Akasha
Seiren
Belletron Era
Saints Spartan V
Loh Kyra
The Girls INID
BACA JUGA: Hero Mobile Legends yang Efektif Membunuh Lord dengan Cepat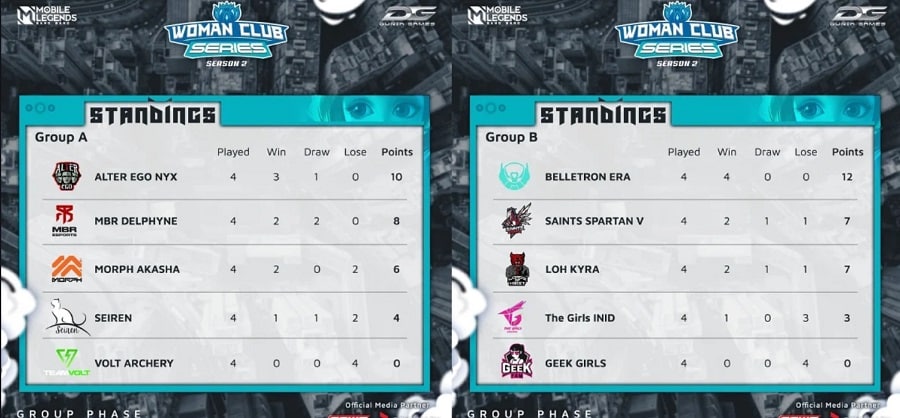 Nasib baik belum datang kepada tim Volt Archery dan Geek Girls yang berada pada posisi terbawah, karena belum pernah menang dalam beberapa pertandingan di Group Stage.
Berbeda dengan Alter Ego dan Belletron Era yang terus menerus mendapatkan kemenangan dalam turnamen ini, kedua tim terbawah tersebut harus berusaha lebih keras lagi di season selanjutnya.
Terlebih lagi dengan BTR Vival yang berhasil mendapatkan title MVP of the Week di Group Stage kemarin, tentu akan memberikan perlawanan yang lebih terhadap tim Belletron Era nanti.
Jangan lupa saksikan babak playoffs yang akan dimulai pada tanggal 1 September – 5 September 2021 nanti ya, kalian bisa saksikan pertandingan para tim ladies ini di YouTube Dunia Games pada pukul 16.30 WIB tentunya.
Ikuti linimasa RevivaLTV di YouTube, Instagram, Facebook dan Revivalpedia untuk mendapatkan informasi-informasi terbaru seputar esports.