RRQ Sena baru saja kedatangan pemain baru, RRQ Aether yang melalui pantauan orang banyak, ia bisa menjadi bayi alien yang baru setelah Albert.
Pemain dari RRQ terkenal sangat berbahaya, dan biasanya pemain-pemain baru yang ada di MDL mereka memiliki bakat yang sangat luar biasa sampai bisa menyaingi pemain MPL.
Sudah ada banyak sekali pemain dari MDL yang memiliki performa yang sangat baik saat bermain di MPL, seperti Albert, Ferxiic, dan juga Variety, dan kali ini RRQ sepertinya akan kedatangan pemain berbakat yang baru.
BACA JUGA: Oura Jelaskan Istilah "Be Call" dalam Mobile Legends

RRQ Aether, Calon Bayi Alien Baru
Di week 4 MDL ID Season 4, RRQ Sena kedatangan pemain baru yang diperkenalkan sebagai jungler mereka, yaitu Jason Keane "Aether" Zefanya dalam Instagram RRQ beberapa hari yang lalu.
Aether memperlihatkan kemampuan yang sangat luar biasa sebagai jungler di tim MDL tersebut, dan dipercaya dengan kemampuannya.
Kedatangan Aether meramaikan para netizen yang tentu saja penasaran dengan jungler Sena sebelumnya, Bless, yang banyak menerima kritik bahwa hero pool nya sangat sedikit.
Masih tidak diketahui apa alasan RRQ mengambil Aether untuk masuk ke tim Sena, tapi persaingan untuk menjadi jungler di RRQ Sena pastinya akan semakin ketat.
BACA JUGA: Tanggapan AE Rasy Mengenai Luminaire Kembali ke Roster EVOS MPL.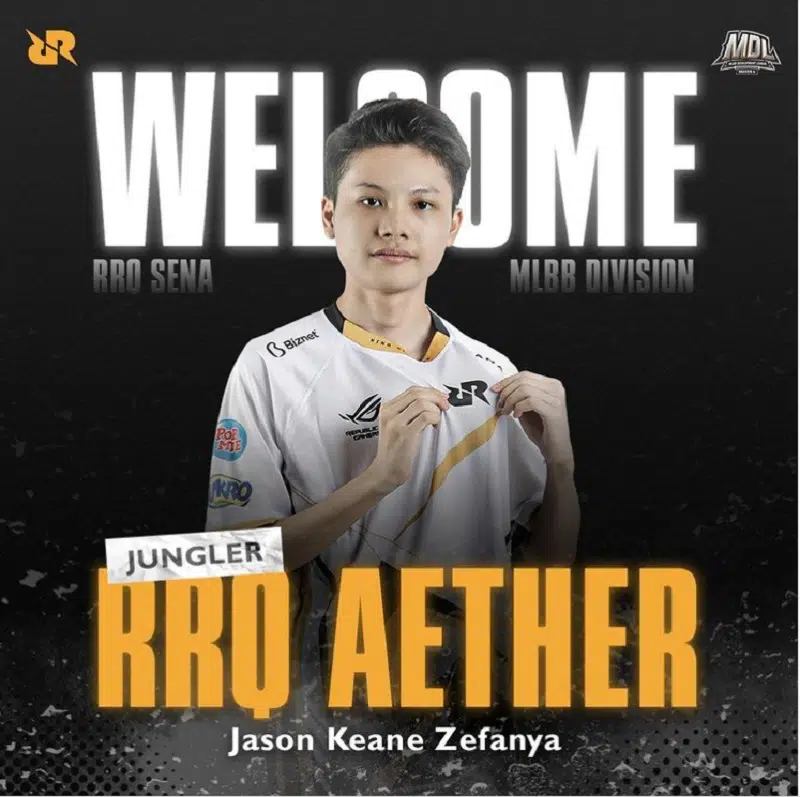 Setelah melihat permainan Aether, banyak yang mengatakan bahwa pemain muda satu ini bisa menjadi the next baby alien, seperti Albert pada saat MPL ID Season 6.
BACA JUGA: 3 Roster Terkuat Sepanjang Sejarah MPL Indonesia
Dapat terlihat bagaimana lancarnya sang assassin dari RRQ Sena di MPL ID Season 6 tersebut membantu RRQ Hoshi mendapatkan kemenangan yang indah, serta mendapatkan gelar back to back champion.
Tampaknya kemampuan Aether yang diasah terus menerus di RRQ Sena bisa membawanya naik ke MPL di waktu yang akan datang jika memang ia berhasil membuat para penonton tercengang.
Ikuti linimasa RevivaLTV di YouTube, Instagram, Facebook dan Revivalpedia untuk mendapatkan informasi-informasi terbaru seputar esports.
Editor: Rafdi Muhammad