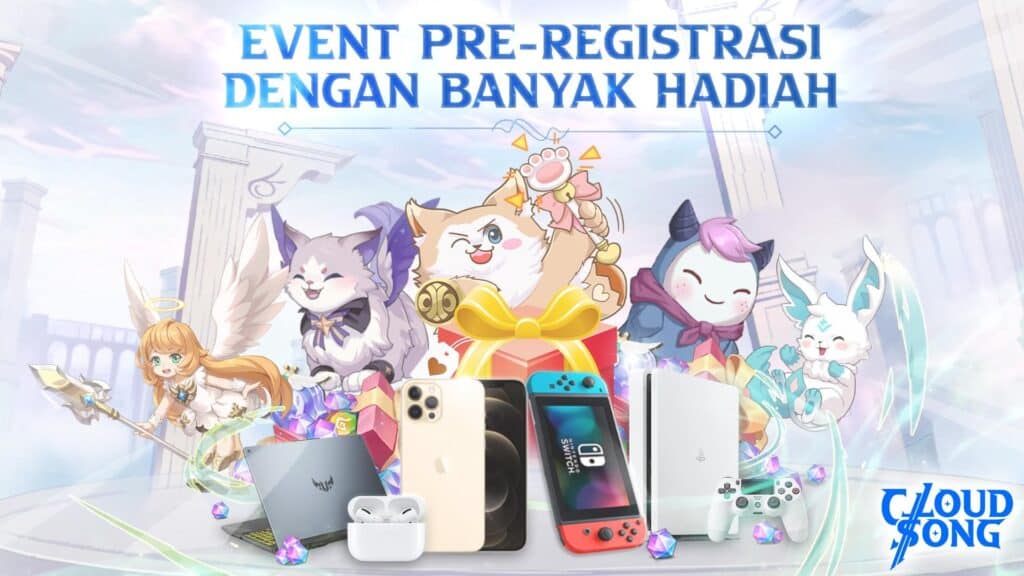 Cloud Song: Saga of Skywalker akan segera dirilis di Indonesia. ARPG yang bercerita tentang kota-kota yang berada di atas langit ini bakal diluncurkan di Indonesia, Singapura, Malaysia, Vietnam, Thailand, dan Filipina pada tanggal 8 September 2021.
Cloud Song: Saga of Skywalker sangat ditunggu-tunggu oleh gamer Indonesia, hal ini terlihat dari banyaknya orang yang melakukan pra-registrasi. Saat ini sudah ada 1 juta lebih 'Skywalker' (sebutan bagi pemain Cloud Song: Saga of Skywalker) yang melakukan pra-registrasi dan bergabung ke dunia MMORPGCloud Song: Saga of Skywalker.
Para Skywalker bisa mengikuti berbagai event pra-registrasi berupa 'Hadiah Milestone' dan 'Special Summon' yang memiliki hadiah total sebesar Rp186 juta. Hadiah tersebut terdiri dari, Iphone 12 Pro Max, Samsung Galaxy S21 Ultra, Airpod Pro, Nintendo Switch, PlayStation 5, atau Laptop ASUS TUF Gaming F1.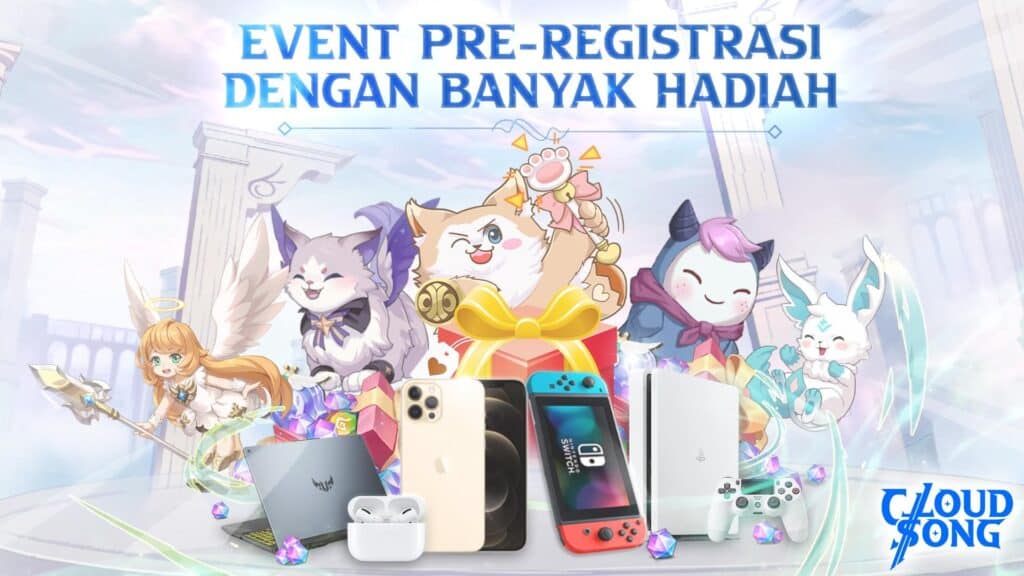 Cloud Song: Saga of Skywalker adalah versi Asia Tenggara (SEA) dari game MMORPG Guardians of Claudia yang merupakan best game 2021. Selama berpetualang kamu akan mengendalikan karakter imut dengan gaya anime fantasi yang menawan.
Terdapat lima kelas yang bisa dimainkan di ARPG Cloud Song: Saga of Skywalker. Kalau kamu suka menyerang dari jauh, kamu bisa menjadi Archer atau Mage. Sementara itu kalau kamu suka bertempur di jarak dekat, kamu bisa menjadi Swordman atau Rogue. Kalau kamu hobi membantu teman dengan heal dan buff, maka kamu bisa mencoba menjadi Oracle.
Cloud Song: Saga of Skywalker menyediakan sistem pet yang akan selalu menemanimu berpetualang. Ada empat tipe pet yang bisa kamu miliki dan gunakan di pertempuran. Ada tipe Fire yang akan menyerang musuh dengan kekuatan magic. Wind yang bakal menyerang musuh dengan kekuatan fisik. Earth yang bakal melindungimu dari serangan musuh. Terakhir adalah Fairy yang bakal memberikan buff untukmu.
BACA JUGA: Benarkah PON XX Papua PUBG Mobile Dilaksanakan Offline di Jakarta?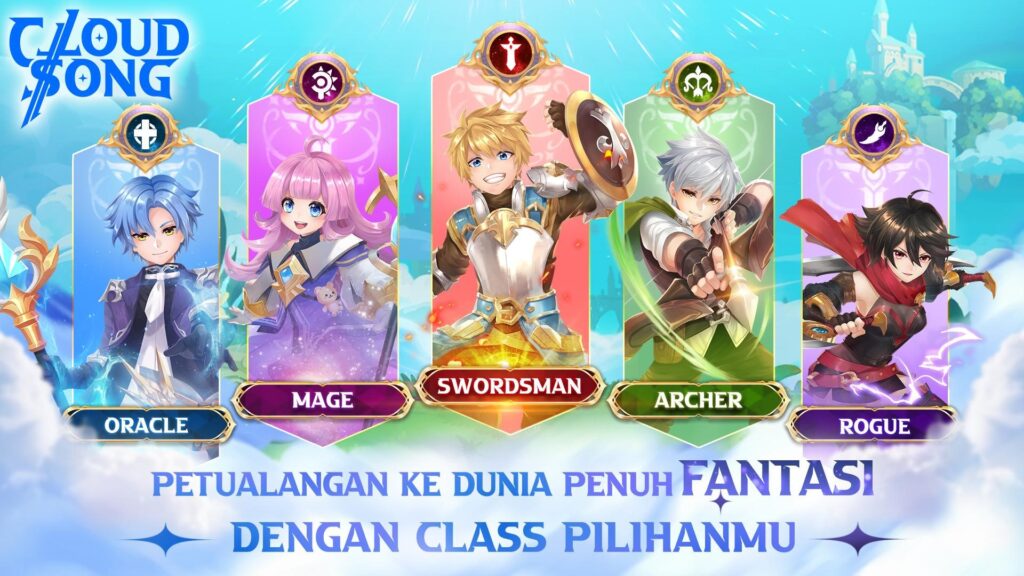 Pet yang kamu miliki bisa diupgrade dan berevolusi sehingga lebih kuat ketimbang pet milik lawanmu. Selama bermain kamu bisa menggunakan 9 pet secara bersamaan. Menjadikan dirimu seorang Skywalker yang sangat kuat dan sulit untuk dikalahkan.
Cloud Song: Saga of Skywalker menyediakan berbagai mode PVP yang sangat menantang. Salah satunya adalah mode cross world PVP 60 vs 60 secara real time. Terbayang betapa seru dan intensnya mode PVP di Cloud Song: Saga of Skywalker. Apalagi kalau kamu sudah dibantu oleh pet dan teman-temanmu.
Bagi penyuka PVE dan adventure, Cloud Song: Saga of Skywalker menawarkan berbagai PVE pada jam-jam tertentu di setiap harinya. PVE ini akan menyediakan berbagai mode dan bos yang harus kamu kalahkan agar mendapatkan bonus yang melimpah.
Berbicara fitur sosial, MMORPG Cloud Song: Saga of Skywalker juga dilengkapi dengan Guild System yang memberikan banyak keuntungan seperti, Guild Shop, Guild Event, Guild Bonus hingga Lelang Barang. Selain itu Cloud Song: Saga of Skywalker juga menyediakan berbagai macam aktifitas in-game, seperti beragam minigames dengan NPC serta Marriage System.
Marriage System di Cloud Song: Saga of Skywalker mengizinkan dua orang pemain yang saling mencintai untuk menikah di dalam game. Yang perlu kamu lakukan adalah meningkatkan intimasi mu hingga 500 poin dengan cara party dan adventure bareng di dalam dungeon atau memberikan hadiah ke pasanganmu.
Bila nilai intimasi sudah mencapai 500, kamu bisa membeli cincin di Black Market dan menikah di depan NPC Angela. Jangan lupa untuk mengundang teman-temanmu agar pestamu meriah dan memiliki banyak hadiah.
Ikuti linimasa RevivaLTV di YouTube, Instagram, Facebook dan Revivalpedia untuk mendapatkan informasi-informasi terbaru seputar esports.