Aldean Tegar, selaku Head of Esports EVOS memberikan alasan kenapa Rekt dan Luminaire tidak ikut bermain dalam MSC 2021 kemarin!
Turnamen MSC 2021 yang merupakan ajang para tim Asia Tenggara bermain untuk merebut gelar juara sebagai tim terbaik di Asia Tenggara sudah dilaksanakan.
Tim Exercration yang berhasil menjadi juara berhasil melampaui tim EVOS Legends dan Bigetron Alpha sebagai perwakilan dari Indonesia.
Para pendukung EVOS Legends pun bertanya-tanya, kenapa dua pemain senior EVOS Legends tidak ikut bermain dalam ajang kompetisi internasional tersebut, dan berikut alasannya!
BACA JUGA: Inilah Next Generation Dari Tim EVOS WORLD, Diisi Para 'Monster'
Alasan Rekt dan Luminaire Tidak Ikut MSC 2021!
Dalam perbincangan dengan Jonathan Liandi dalam Empetalk di YouTube-nya, Aldean menyebutkan alasan kenapa kedua pemain senior tidak ikut bertanding dalam MSC 2021.
Alasannya sangat simple karena mereka memilih untuk beristirahat. Yang menjadi pertanyaan besar adalah kenapa EVOS Legends memperbolehkan kedua pemain tersebut untuk beristirahat.
BACA JUGA: Jawaban EVOS Wannn Mengenai Main Tidaknya Ia di MPL Season 8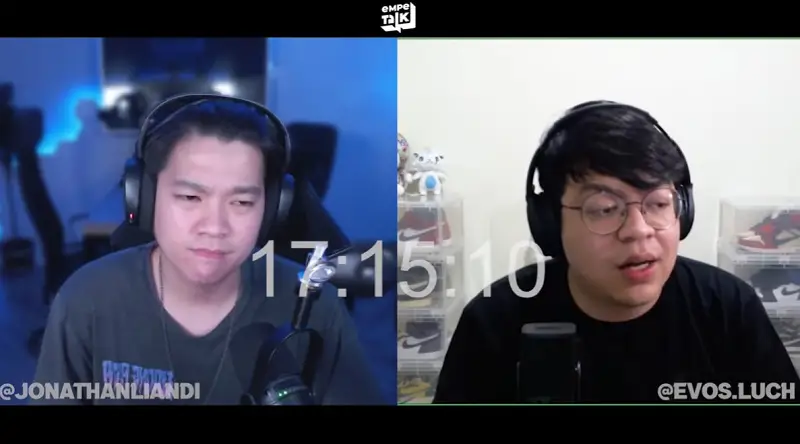 Status kedua pemain tersebut padahal masih aktif sampai MSC 2021 kemarin, tetapi pihak EVOS tidak menolak permintaan mereka, dan berikut alasan Head of Esports EVOS.
"Ya pasti ada obrolan, judulnya kan pasti kita menghargai keputusan pemain, selalu seperti itu. Kita kan berfikir juga, kasarnya kalau pemain ini gak ada hatinya untuk bermain, dipaksakan pun gak akan baik gitu.
Cuma ya banyak hal juga, pasti mereka pun ada pembahasan di media-media, netizen ngomong takut kalah atau apa, secara fakta mereka pasti merasakan hal itu. Kalau kalah, kalian tau netizen indonesia seperti apa, mau kalah mau menang haters ada aja pasti, itu bisa aja menambah atau merusak pamor player tersebut." jelas Aldean.
BACA JUGA: Vyn Sebut Pemain Favoritnya di Scene Mobile Legends!
Ia pun menjelaskan secara jelas bahwa pasti pihak EVOS ada berusaha untuk meminta mereka untuk bermain, tetapi kembali lagi jika mereka pada dasarnya tidak ingin bermain ya tidak bisa dipaksa.
Jadi, secara keseluruhan kita dapat mengambil kesimpulan bahwa kenapa Rekt dan Luminaire tidak bermain di MSC 2021, karena memang mereka tidak ingin ikut untuk bermain nih sobat RevivaL.
Ikuti linimasa RevivaLTV di YouTube, Instagram, Facebook dan Revivalpedia untuk mendapatkan informasi-informasi terbaru seputar esports!
Editor: Rafdi Muhammad