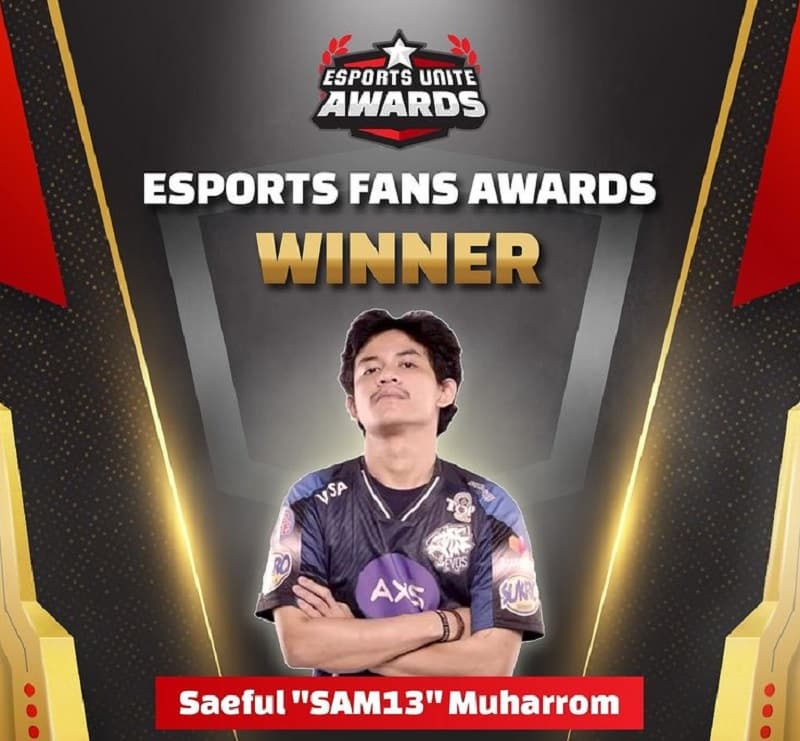 Puncak acara Esports Unite Awards 2021 telah sukses dilaksanakan Sabtu (8/1) sore, siapa saja peraih penghargaan dari setiap kategori tahun ini?
Esports Unite Awards (EUA) 2021 merupakan ajang penghargaan bagi para insan yang turut mengembangkan dan konsisten berkontribusi untuk industri esports di Indonesia.
Ditayangkan live stream di channel YouTube GGWP.ID, ajang ini memberikan apresiasi kepada para insan esports yang ditentukan lewat penilaian para juri serta vote online untuk beberapa nominasi.
Pada tahun pertamanya ini, EUA 2021 punya 18 kategori penghargaan. Dari total 18 kategori ini, 5 kategori terfavorit ditentukan melalui voting, sementara 13 kategori lainnya melalui tahapan penilaian ketat dari para juri dan panelis.
BACA JUGA: Ayah Ryzen Beri Sinyal Keputusan Karir Anaknya
Pemenang Nominasi Esports Unite Awards 2021
Di bawah ini adalah kumpulan para pemenang yang berhasil meraih voting terbanyak dalam acara Esports Unite Awards 2021, artinya mereka berhasil menjadi yang terbaik di bidangnya pada tahun 2021.
Esports Fan Awards
EVOS SAM13 merupakan kapten dari tim EVOS Divine. Dia sukses membawa EVOS Divine menjadi tim pertama yang mendapatkan hattrick juara FFIM secara berturut-turut.
Best Esports Brand
Republic of Gamers secara berkelanjutan terus menghadirkan produk yang mengakomodir kebutuhan. Selain itu, ROG juga menjadi sponsor Rex Regum Qeon.
Best Gaming Chair
Secretlab TITAN Evo 2022 adalah kursi gaming paling nyaman dan paling mudah disesuaikan yang ada di pasaran, inilah yang menjadikannya sebagai favorit para fans di tahun 2021.
Terpilih sebagai Best Gaming Chair oleh para gamer dan non-gamer, Secretlab TITAN Evo 2022 menyediakan berbagai fitur ergonomis baru, seperti dudukan kursi berkontur yang ditingkatkan, penyangga punggung yang dapat disesuaikan dengan lebih presisi, bantalan kepala magnetic yang mudah disesuaikan, dan sandaran baru yang mendorong postur dan menyangga posisi duduk dengan lebih baik.
BACA JUGA: The Prime Esports Resmi Bubar, Bagaimana Nasib Roster?
Best Gaming Laptop
ROG Strix G15 Advantage Edition menghadirkan laptop gaming tipis berdesain elegan, namun memiliki performa yang powerfull untuk memainkan game-game berat dan AAA.
Best Gaming Performance Smartphone
Realme GT Neo2 berhasil mendobrak pasar gaming dan memenangkan persaingan sengit di kategori Best Gaming Performance Smartphone.
Smartphone powerful dengan desain sporty nan unik, chipset Snapdragon 870 5G, dan refresh rate 120Hz ini berhasil membuktikan performanya, bahkan untuk memainkan game-game berat dengan sangat mulus.
Hal ini juga didukung oleh Stainless Steel Vapour Cooling Plus yang membuat suhu perangkat tetap terjaga, serta GT Mode 2.0 untuk kekuatan maksimal saat bermain.
Tak perlu khawatir kehabisan baterai, karena realme GT Neo2 sudah dilengkapi dengan 65W SuperDart Charge yang mampu mengisi baterai dari 0 hingga 100% dalam waktu 36 menit saja. Secara keseluruhan, realme GT Neo2 membawa price to performance yang terbaik di kelasnya.
BACA JUGA: 3 Tim VALORANT yang Memiliki Pendapatan Terbanyak dari 2020 hingga Sekarang
Related