Head of Esports EVOS, Aldean Tegar, memberikan masukan untuk developer Mobile Legends, Moonton, melihat beberapa pemain banyak yang menolak untuk bermain.
Sudah ada beberapa kasus di mana beberapa pemain menolak tawaran kepada timnya untuk berpartisipasi dalam sebuah turnamen, sehingga roster harus diganti.
Pembahasan ini pun menyangkut kepada beberapa pemain EVOS Legends yang tidak mengikuti beberapa turnamen ke belakang dalam obrolan di Empetalk.
Melihat hal tersebut pun, Aldean memberikan beberapa masukkan kepada Moonton, yang dikatakan seharusnya menjadi pihak yang bisa menyelesaikan masalah seperti ini.
BACA JUGA: RRQ Resmi Kenalkan Clay, Jadi Pemain Kedua untuk MPL Season 8
Saran Head of Esports EVOS Kepada Pihak Moonton
Dalam perbincangan dengan Emperor di Empetalk dalam YouTube Jonathan Liandi, banyak perbincangan mengenai tim EVOS Legends belakangan ini.
Salah satunya saat membicarakan mengenai alasan kenapa Rekt dan Luminaire tidak mengikuti MSC 2021.
BACA JUGA: Donkey akan Donasikan Setengah Pendapatan Dari Konten Sugar Daddy!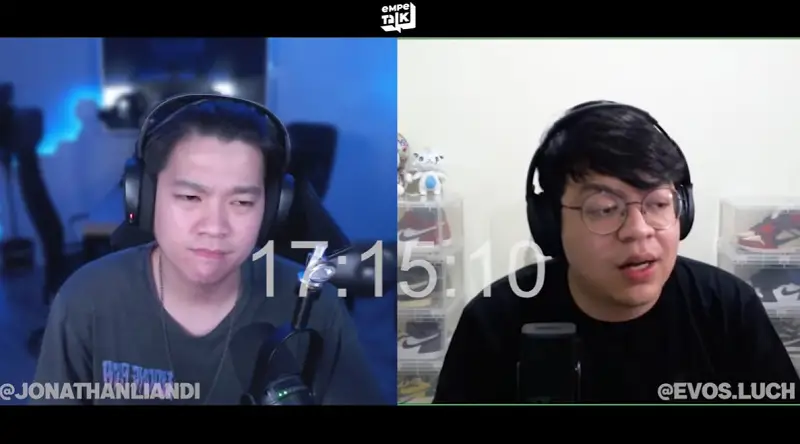 Setelah berbincang mengenai masalah tersebut, Aldean mengatakan bahwa seharusnya di titik tersebut pihak Moonton turun tangan untuk menangani masalah-masalah seperti itu.
"Ya seharusnya di titik tersebut (pemain menolak bermain) ada Moonton yang ngasih sesuatu yang gak akan bisa ditolak oleh pemain. Itu kan liga impian semua player di Indonesia yang ada d Southeast Asia bahkan kan, ya harusnya ada sesuatu.
Dalam arti melakukan rules yang membuat playernya mikir lagi, kalau gua gak main apa yang bisa gua lakukan, apakah di banned untuk 100 season, atau ada denda mungkin atau apa, itu hanyalah saran tapi lah. Semoga untuk kedepannya Moonton bisa membuat rules seperti itu untuk protect tim juga," jelas Aldean
BACA JUGA: Head Esports EVOS Jelaskan Alasan Rekt dan Luminaire Tidak Main MSC 2021!
Memang meskipun semua pemain memiliki hak untuk tidak bermain, dan memilih untuk beristirahat, banyak juga pemain yang berjuang susah payah untuk berpartisipasi dalam turnamen tersebut.
Semoga saja saran ini bisa tercapai ke pihak Moonton, dan menurut kalian apakah peraturan seperti ini akan merugikan pemain atau tidak ya kira-kira?
Ikuti linimasa RevivaLTV di YouTube, Instagram, Facebook dan Revivalpedia untuk mendapatkan informasi-informasi terbaru seputar esports!
Editor: Rafdi Muhammad