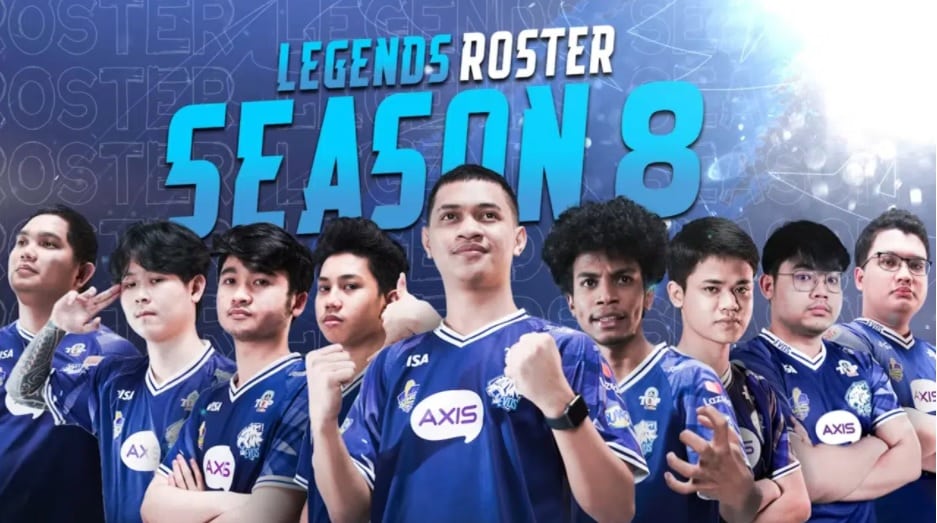 Kompetisi game bertaraf nasional yang sangat dinantikan, Mobile Legends Professional League Indonesia (MPL ID) Season 8 segera memasuki Regular Season di Nimo TV dan siap untuk disaksikan oleh para penggemar Mobile Legends di seluruh Indonesia.
Nimo TV, platform media live streaming game di Indonesia, kembali menjadi partner resmi untuk menyiarkan secara langsung setiap pertandingan yang berlangsung di MPL ID Season 8. Tidak hanya menyiarkan, Nimo TV juga akan menghadirkan para streamer ternama, antara lain Oura, Marsha, Angsa, Donkey, Lemon, Earl, Pica dan masih banyak lagi, untuk memberikan komentar tentang pertandingan yang berlangsung.
Sebanyak 6 dari 8 tim esports yang bertanding di MPL ID Season 8 merupakan streamer Nimo TV sehingga pemirsa dapat mendukung, melihat persiapan mereka dalam menghadapi MPL ID Season 8 hingga ngobrol secara eksklusif di Nimo TV.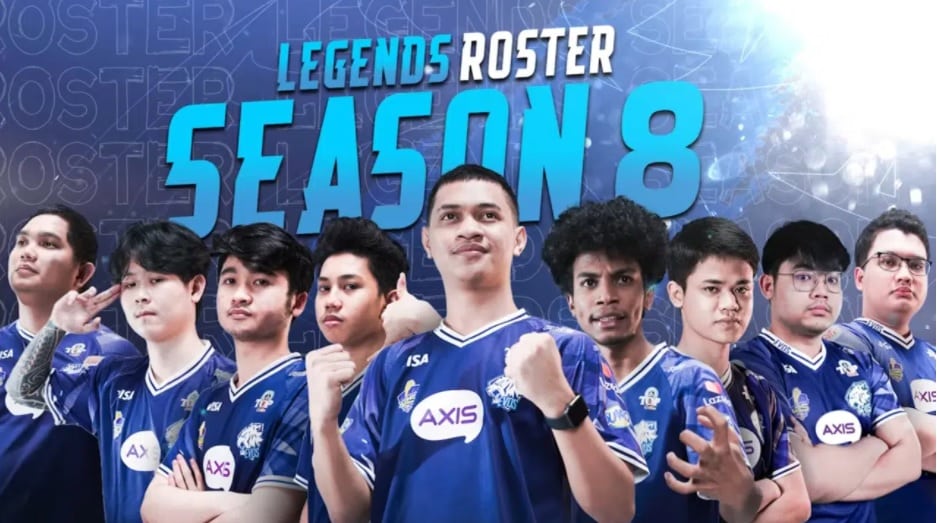 Tim sekaligus streamer Nimo TV yang akan berlaga di MPL ID Season 8, yaitu:
EVOS Legends: R E K T, Wannn, Antimage, LJ, Clover, Ferxiic, Zeys
RRQ Hoshi: Alberttt, Vynnn, Xinnn, R7, Psychoo, Xinnn, Liam
Bigetron Alpha: RENBO, Kyy, Branz, Rippo
Alter Ego Esports: PAI, LeoMurphy, Celiboy, Ahmad, Udil, Rasy
Aura Fire: god1va, High. Variety
ONIC Esports: Drian, S A N Z, CW
MPL ID Season 8 akan disiarkan secara langsung di Nimo TV selama Regular Season, yaitu mulai 13 Agustus hingga 3 Oktober 2021, setiap Jumat dan Minggu pada jam 15.00 WIB dan Sabtu, jam 13.00 WIB.
Nonton bareng (nobar) MPL ID Season 8 di Nimo TV akan semakin seru dengan diadakannya event di dalam aplikasi, antara lain Lucky Draw dan Tebak Prediksi dengan hadiah berupa recall effect, legendary skin hingga smartphone. Untuk ikutan Lucky Draw, pemirsa dapat menyelesaikan berbagai misi seperti kirim komentar, gift, share live room, dan lainnya.
BACA JUGA: Team SMG Punya Rencana Ambil Pemain Dari Indonesia Lagi!
Setiap Kamis, jam 20.00 WIB, akan diadakan juga sebuah talkshow yang akan mengulas seputar MPL ID selama season berlangsung bertajuk Nimo TV MPL Quickie Show S3. Setiap episodenya akan mendatangkan berbagai guest star yang pasti ditunggu-tunggu oleh penggemar MLBB. Episode pertama talkshow ini akan diadakan pada 12 Agustus.
Talkshow yang dipandu oleh host Sabila, Ranger Emas, Gerry Eka, dan Desy ini akan menghadirkan konsep menarik serta menghibur para pemirsanya melalui 5 segment, yaitu MPL Outbreak, The Hot Seat, Litho Wander Wheels, Funtastic Nimo, dan Kick Off.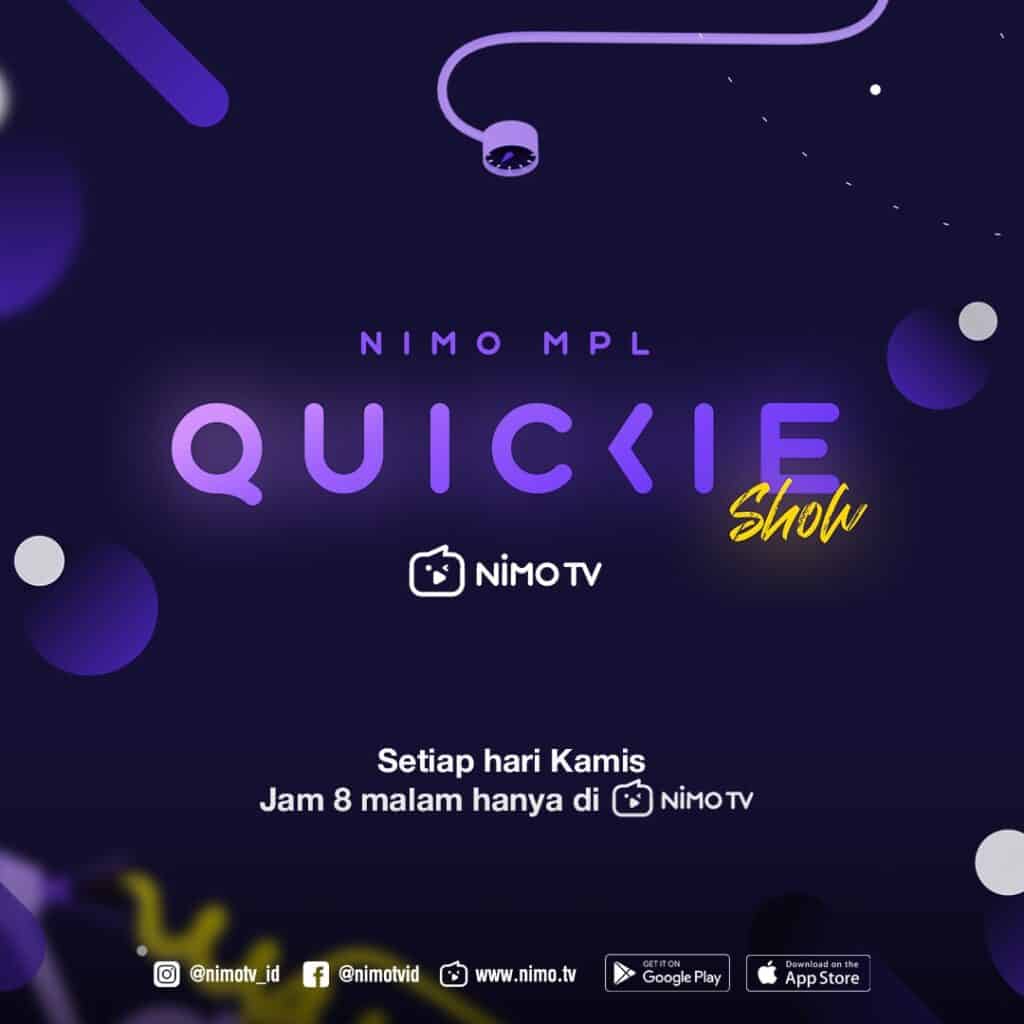 MPL Outbreak: Membahas hal-hal yang terjadi di MPL dari gameplay review, statistik pemain, ranking, dan poin pemain
The Hot Seat: Debat terbuka yang akan mengupas cerita pertandingan hingga tuntas
Litho Wander Wheels: Segment yang akan mengundang tawa dengan menyelenggarakan berbagai game menarik dan hanya disini akan ada berbagai cerita eksklusif tentang kehidupan para guest star
Funtastic Nimo: Giveaway mulai dari Diamond hingga Skin MLBB dan hadirnya Icon Host Nimo TV
Kick Off: Pembahasan seputar strategi dan prediksi untuk pertandingan minggu selanjutnya
Semua keseruan MPL ID Season 8 tersebut, mulai dari pertandingan, Lucky Draw, giveaway hingga talkshow bisa dinikmati DI SINI: https://bit.ly/MPLIDS8
Ikuti linimasa RevivaLTV di YouTube, Instagram, Facebook dan Revivalpedia untuk mendapatkan informasi-informasi terbaru seputar esports.