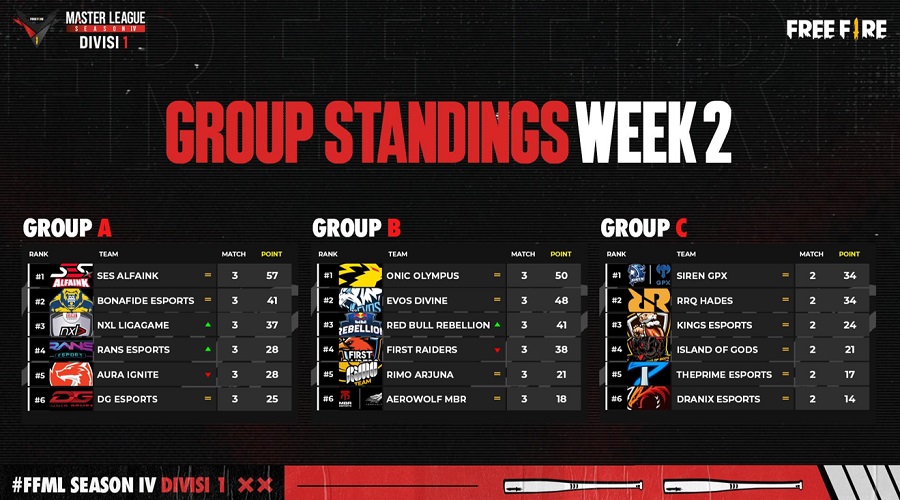 Free Fire Master League (FFML) Season 4 sudah mengakhiri week 2 dari kedua divisi, tentu ada beberapa perubahan posisi dari beberapa tim yang berhasil menaikkan performa mereka.
Selama week 2 berlangsung, para tim dari kedua divisi memberikan semangat yang lebih lagi dari week sebelumnya, terutama tim SES Alfaink yang tidak bermain bersama Thanos karena mendapatkan hukuman tidak bermain.
Tidak banyak perubahan yang terjadi di papan klasemen Divisi 1, tetapi masuk ke Divisi 2, Grup B tampaknya mengalami perubahan besar dengan EVOS Immortal yang turun takhta dari posisi pertama.
BACA JUGA: Ulang Tahun ke-4, Free Fire Masuk Guinness World Records
Hasil FFML Season 4 Divisi 1 – Week 2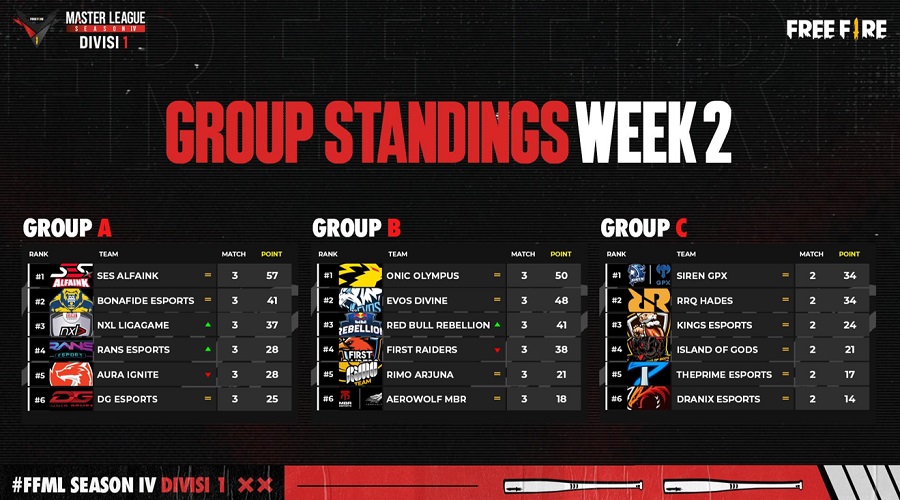 Meski harus bermain tanpa salah satu pemain mereka SESTHANOS akibat hukuman bermain, SES Alfaink terus memantapkan posisi mereka di puncak klasemen grup A pada penghujung week 2 yang berakhir pada hari minggu (29/08).
Adapun dibawah klasemen grup A, tim besutan Fayad, Aura Ignite, harus puas turun satu peringkat ke posisi lima setelah kembali tampil mengecewakan di pekan kedua ini.
Di grup B, rivalitas antara dua mantan juara Onic Olympus dan Evos Divine semakin memanas. Meski berhasil mendapatkan tiga Booyah! di match day 3 dan match day 4, Evos harus puas menjadi runner up sementara grup B karena keberhasilan Onic Olympus merebut dua Booyah!.
Di grup C, konsistensi menjadi kunci keberhasilan Siren GPX memuncaki klasemen sementara. Meski gagal mendapatkan Booyah! pada matchday ke 3, konsistensi placement yang didapatkan oleh Siren GPX cukup untuk memberikan mereka jumlah total poin yang sama dengan RRQ Hades, dan memimpin klasemen grup C untuk sementara waktu.
BACA JUGA: Tabul Beri Alasan ONIC Olympus Mengamuk di Week 1 FFML Season 4
Divisi 2 – Week 2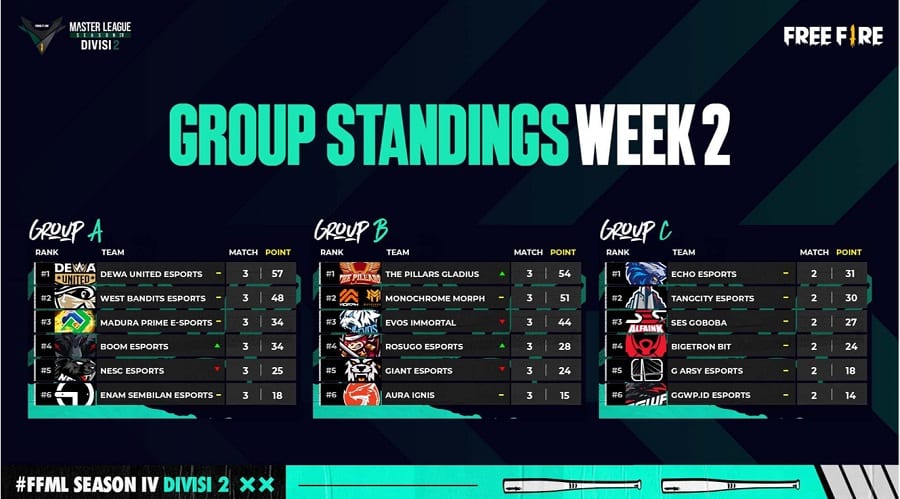 Dewa United Esports dapat bernafas lega, karena masih berkesempatan duduk nyaman di puncak klasemen dengan total 57 poin. Terlepas dari performa yang solid dari West Bandits Esports dan Madura Prime Esports, dua Booyah! yang didapatkan oleh Dewa United cukup untuk mempertahankan posisi mereka di puncak klasemen.
Sementara itu di grup B, perebutan posisi 1 hingga 3 terus berjalan ketat setelah tim The Pillars Gladius sukses melengserkan Evos Immortal dari posisi pertama. Sedangkan tim baru Monochrome Morph terus menempel erat posisi The Pillars dengan selisih tiga poin saja.
Di group C, Setelah amankan Booyah dua kali berturut-turut, SES Goboba berhasil merangkak naik ke puncak klasemen FFML Season IV Divisi 2 Match Day 3 dengan total perolehan 67 point. Sayangnya, dua Booyah tersebut tidak cukup untuk mengalahkan tim Echo Esports, yang sama-sama mengantongi 67 point, sekaligus langsung menduduki posisi pertama pada klasemen POT C.
BACA JUGA: SES Thanos Resmi Terkena Sanksi di FFML Season 4 Divisi 1!
Ikuti linimasa RevivaLTV di YouTube, Instagram, Facebook dan Revivalpedia untuk mendapatkan informasi-informasi terbaru seputar esports.