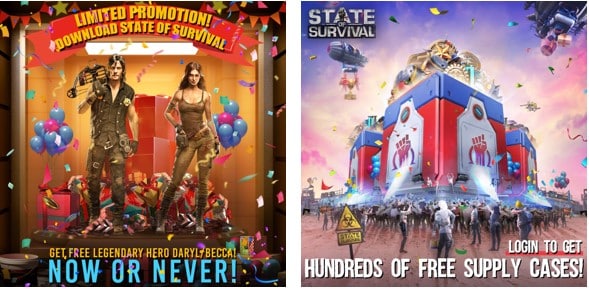 Memperingati hari jadinya yang ke-2, game strategi free-to-play dengan setting post-apocalyptic, State of Survival, mengumumkan sebuah Anniversary Revelry atau Pesta Ulang Tahun.
Mulai 6 September dan berlangsung hingga Oktober 2021, pemain akan dimanjakan dengan tema dan hero baru, free draw, acara giveaway, kolaborasi selebriti Korea hingga kemitraan dengan The Walking Dead yang masih berlanjut. Dengan pencapaian yang luar biasa, 90 juta download di seluruh dunia pada akhir Agustus 2021, perayaan itu didedikasikan untuk semua penggemar State of Survival atas dukungan dan antusiasme mereka yang luar biasa. Pemain dapat memeriksa detailnya di sini dan melakukan pre-register untuk extra supply cases.
"Kami senang bisa menandai anniversary ke-2 State of Survival dengan melampaui 90 juta download di seluruh dunia dan ini semua tidak terlepas dari dukungan para penggemar dan pemain kami. Oleh karena itu pada acara ulang tahun ini, kami sangat bersemangat untuk memperkenalkan konten baru, acara berkelanjutan, dan hadiah luar biasa sepanjang bulan anniversary untuk memberi penghargaan kepada semua Survivors," jelas Chris Petrovic, Chief Business Officer at FunPlus.
BACA JUGA: PAYMENT CASHLESS Juara GoPay Arena Level Up Community Week 23
Tema baru: Last Hope
Sebagai tema baru merayakan ulang tahun pada "Last hope", State of Survival mengajak semua pemain untuk membangun pesawat khusus yang dapat menyerang para zombie. Fitur gameplay terbaru ini akan memperkaya strategi pemain dalam memusnahkan tentara zombie dengan zat baru yang disebut Infecticide dan pengalaman baru membangun kapal udara besar. Ketika lepas landas, kapal udara akan menyemprotkan Infecticide dari langit dan membunuh para zombie terinfeksi dalam skala besar.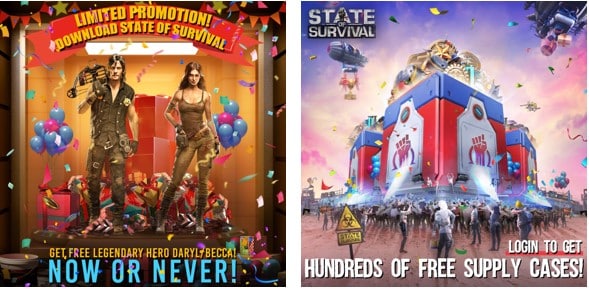 Hero legendaris baru: Becca dan Daryl
Hero baru Becca akan diluncurkan dalam game! Becca adalah salah satu protagonis terpenting dari kisah State of Survival, dan dia memiliki hubungan langsung dengan alur cerita. Sebagai salah satu pemimpin dari Final Hope, Becca secara alami kebal terhadap virus dan memiliki skill aktif (Raid) dan pasif (Incendiary Bullets & Killer Instinct).
Selain itu, sebagai hasil dari terobosan crossover April lalu, State of Survival x The Walking Dead, pemain dapat membuka dan masuk ke dalam permainan sebagai Daryl Dixon, karakter terfavorit dari seri TWD yang diperankan oleh bintang Hollywood terkenal Norman Reedus.
BACA JUGA: Hasil FFML Season 4 Week 3: Kings Esports Mulai Susul Siren GPX
200 Lucky Draw
Pemain bisa berpartisipasi dalam acara hanya dengan log in dan kemudian mendapatkan supply cases sebagai hadiah. Ada 200 free draw tersedia bagi pemain yang berkesempatan untuk mendapatkan pahlawan dan banyak item dan properti dalam game untuk membantu pemain meningkatkan kekuatan dengan cepat.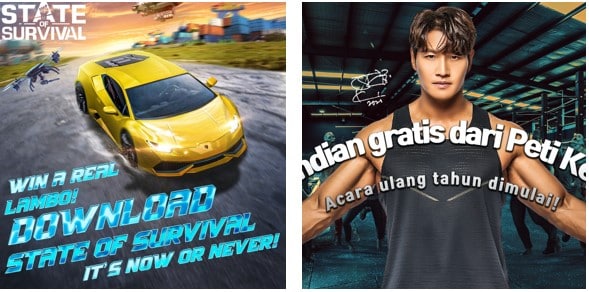 Ultimate Survival Kit Giveaway dan Global Discord
Sebuah perayaan tentunya tidak akan lengkap bila tanpa hadiah dan pada anniversary ke-2 ini, State of Survival akan memberikan Ultimate Survival Kit Giveaway, terdiri dari gift card Amazon senilai Rp700.000 untuk 1,000 pemain; gift card Amazon senilai Rp14.000.000 untuk 10 pemain dan yang paling spektakuler, sebuah mobil sport sungguhan yaitu Lamborghini untuk satu pemain yang beruntung. Acara giveaway dapat diikuti oleh semua pemain di wilayah global kecuali Jepang.
State of Survival juga telah menyiapkan sebuah acara bertema amazing night pada applikasi Discord sepanjang bulan ini, berlangsung pada 1 hingga 30 September 2021. Global Discord akan mengundang beragam KOL, DJ, dan para pemeran TWD untuk talk show dan membuat acara giveaway setiap minggu. Pemain dapat bergabung disini.
Kolaborasi dengan Korean Star: Kim Jong Kook
Terkenal sebagai anggota Running Man, State of Survival bekerja sama dengan Kim Jong Kook untuk mengumumkan anniversarynya. Sebuah cinematic video nantinya akan segera dirilis untuk menghibur para pemain SOS dan penggemar Kim Jong Kook.
Nantikan update selanjutnya dan lebih banyak konten anniversary di media sosial State of Survival, Instagram, YouTube dan Facebook.