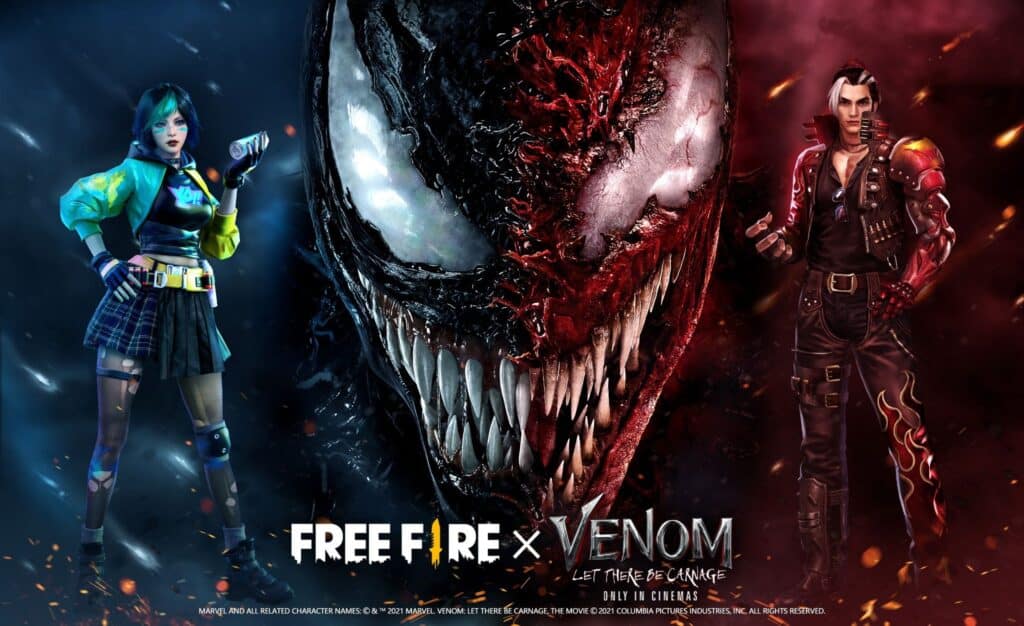 Garena Free Fire secara resmi mengumumkan kolaborasi bersama Sony Entertainment Pictures, dimana pemain akan mendapatkan pengalaman yang seru dan sangat nyata dengan ragam konten eksklusif dari film terbaru Venom: Let There Be Carnage (2021) yang akan datang.
Kolaborasi ini menandakan kemitraan Free Fire pertama bersama dengan sebuah franchise film, yang akan menghadirkan crossover Free Fire bersama Venom yang unik.
Tak hanya hadirkan in-game experience dan koleksi karakter bertemakan Venom dalam Free Fire mulai 10 Oktober 2021, masyarakat juga dapat melihat berbagai easter egg atau pesan tersembunyi elemen Free Fire dalam sekuel film Venom yang hadir dalam waktu dekat.
Pemain Free Fire di seluruh dunia dapat menunggu hadirnya kolaborasi ini pada 10 Oktober 2021 dengan berbagai konten Venom yang dapat dimainkan, in-game item eksklusif Venom, serta berbagai koleksi lainnya akan dirilis ke Free Fire sebagai bagian dari in-game event khusus. Pemain juga akan dapat menampilkan karakter mereka dalam berbagai skin Venom.
Tak hanya Venom yang akan hadir pada Free Fire, sebaliknya masyarakat juga dapat melihat easter egg (pesan tersembunyi) Free Fire di dalam film Venom: Let There Be Carnage yang akan hadir dalam waktu dekat. Penggemar Free Fire yang menonton sekuel film Venom di bioskop juga akan mendapatkan kejutan khusus. Temukan elemen tersembunyi Free Fire di dalam film kedua Venom!
Venom: Let There Be Carnage (2021) sendiri adalah film pahlawan super Amerika Serikat yang didasarkan dari tokoh Marvel Comics yang berjudul sama, serta merupakan sekuel dari film Venom (2018). Kisah dalam film ini akan melanjutkan petualangan Eddie Brock bersama symbiote-nya yang menyebut dirinya sebagai Venom.
Film Venom: Let There Be Carnage (2021) diproduksi oleh Columbia Pictures dari Sony Entertainment Pictures, yang bekerja sama dengan Marvel dan Tencent Pictures.
BACA JUGA: Pemain dengan Savage Terbanyak Sejak MPL ID Season 4 Sampai Season 8
Lebih dari setahun setelah peristiwa Venom (2018), jurnalis investigasi Eddie Brock berjuang untuk menyesuaikan diri dengan kehidupan sebagai host manusia dari symbiote alien yang bernama Venom, yang memberinya kemampuan manusia super untuk menjadi hakim jalanan yang mematikan.
Brock mencoba untuk kembali pada karirnya sebagai jurnalis dengan mewawancarai pembunuh berantai Cletus Kasady di penjara, yang pada akhirnya menjadi host manusia dari symbiote alien Carnage, serta melarikan diri dari penjara setelah eksekusi hukuman yang gagal.
Ikuti linimasa RevivaLTV di YouTube, Instagram, Facebook dan Revivalpedia untuk mendapatkan informasi-informasi terbaru seputar esports.
Related