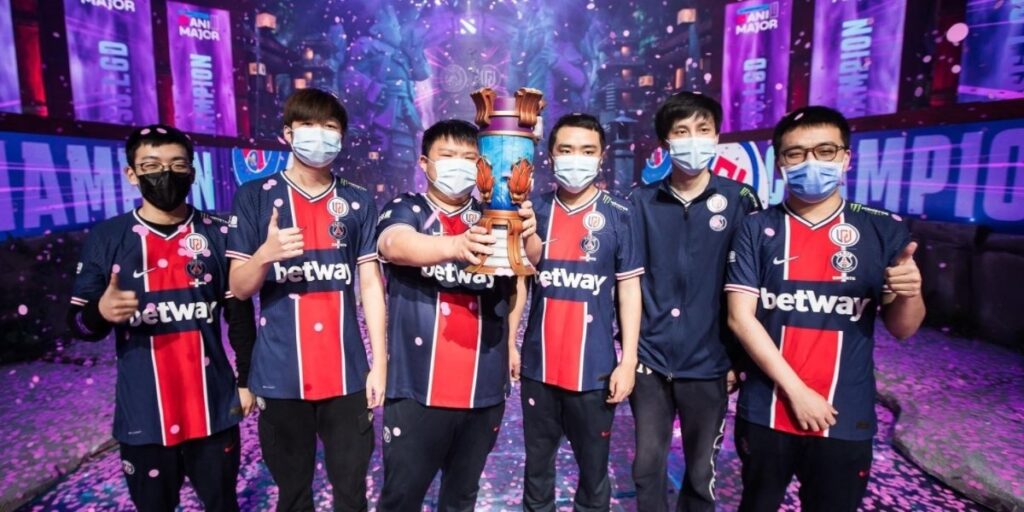 Turnamen terbesar dari esports Dota 2, TI10, akan segera dimulai menjelang 3 hari lagi, dan siapakah tim favorit yang diharapkan bisa memegang gelar juara?
Sudah ada banyak sekali tim-tim yang dinanti-nantikan untuk kembali dilihat beraksi untuk memperebutkan gelar juara musim kesepuluh dari turnamen internasional kali ini.
Beberapa dari tim tersebut ada yang menjadi tim favorit beberapa netizen untuk menjadi juara TI10 kali ini lho, siapa saja kira-kira mereka ya?
BACA JUGA: [Road to TI10] 6 Momen Tidak Terlupakan Dalam Sejarah TI
3 Tim Favorit Juara TI10
PSG.LGD
Tim asal Tiongkok ini sudah menjadi langganan masuk ke Top 3 dalam 2 musim The International sebelumnya, dan selalu gagal mendapat kesempatan untuk menjadi juara.
Dikalahkan oleh OG dan Liquid tentu membuat para penonton mendukung tim ini untuk bisa mendapatkan gelar juara yang sudah lama diincar oleh tim yang menempati posisi 2 di DPC 2021 kemarin.
Melihat tim asal Tiongkok lain, yaitu Invictus Gaming yang sedang mengalami nasib buruk di mana 2 pemain mereka terinfeksi virus Covid-19, maka PSG.LGD masuk ke dalam tim favorit untuk menjadi juara TI10 nanti.
BACA JUGA: [Road to TI10] 7 Pelatih Terbaik yang Akan Hadir di TI10
Evil Geniuses
Mantan juara TI5 ini juga tentu akan memiliki kesempatan besar dalam memperebutkan gelar juara di musim kesepuluh ini, melihat mereka berhasil meraih posisi pertama dalam DPC 2021.
Tentu mereka juga mendapatkan kesempatan untuk melakukan balas dendam terhadap PSG.LGD yang membuat mereka berada di posisi ketiga dalam TI8 yang lalu.
Iceiceice dan kawan-kawan, dengan bantuan BuLba sebagai pelatih mereka tentu memancing banyak penggemarnya untuk mendukung mereka menagmbil juara TI10 kali ini.
BACA JUGA: [Road to TI10] 8 Pemain Superstar yang Tidak Lolos TI10
Team Secret
Terakhir ada Team Secret yang sampai sekarang masih ditunggu oleh banyak pendukungnya untuk mendapatkan gelar juara The International. Dengan roster sekarang ini, tentu mereka bisa memberikan tekanan cukup kuat kepada lawan mereka.
Puppey sebagai kapten yang memiliki pengalaman sangat banyak berada di 10 musim The International, tentu bisa mengangkat tim ini bersama Matumbaman yang juga pernah menjuarai TI7 bersama Team Liquid, terutama ada Heen juga yang menjadi pelatih mereka.
Bonus: OG
Terakhir ada OG yang kita tahu dengan statusnya sebagai back to back TI, walaupun mereka lolos dari jalur kualifikasi regional, mereka pasti ingin menciptakan sejarah lagi.
Sayangnya Ceb batal untuk tampil di gelaran TI10 mengingat dia habis operasi mata dan posisinya akan digantikan oleh miCKe.
Nah, bagaimana menurut kalian sobat RevivaL, siapakah tim favorit yang akan menjuarai TI10 nanti, apakah kalian memiliki opini tim lain bisa mengambil juara di musim kali ini?
Ikuti linimasa RevivaLTV di YouTube, Instagram, Facebook dan Revivalpedia untuk mendapatkan informasi-informasi terbaru seputar esports.
Editor: Rafdi Muhammad
Related