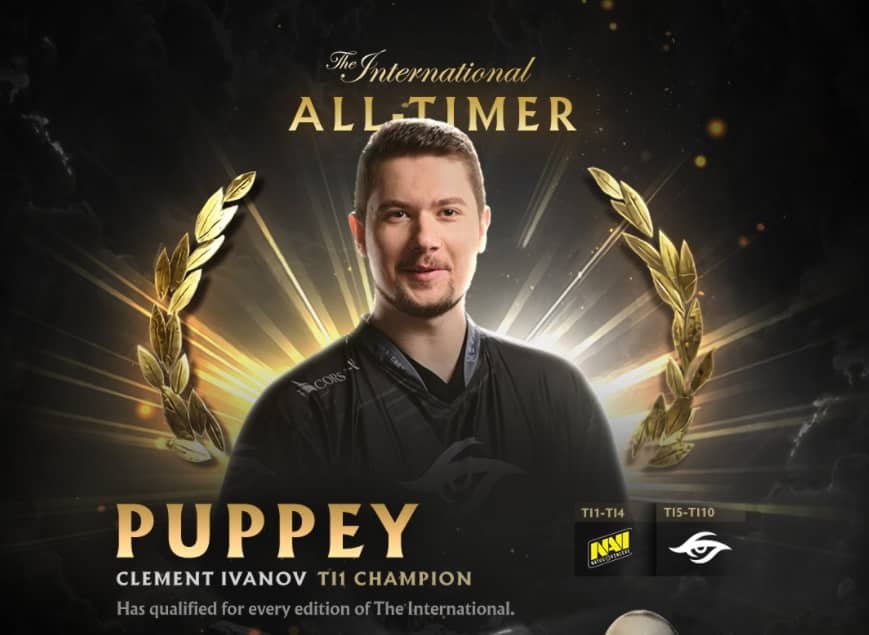 Puppey jadi all timers yang masih bermain di turnamen TI10 nanti, dan menjadi kesepuluh kalinya berkontribusi di dalam turnamen terbesar Dota 2 ini.
Mengikuti turnamen The International adalah harapan seluruh pemain Dota 2, terutama pemain profesional di setiap negara yang ada. Bahkan mengikuti TI lebih dari 1 kali sudah sangat menguntungkan.
Bagaimana dengan pemain yang selalu mengikuti turnamen besar ini secara terus menerus setiap tahunnya tanpa ada absen sama sekali?
BACA JUGA: Belum Mulai, Team Spirit Ungkap Beberapa Masalah di TI10
Puppey Menjadi Pemain All-Timers TI yang Tersisa di TI10
Nama pemain tersebut adalah Clement 'Puppey' Ivanov, yang menjadi satu-satunya pemain all timers yang tersisa setelah KuroKy tidak berhasil lolos kualifikasi TI10 ini.
Puppey yang masih bersama dengan Team Secret tentu akan memberikan yang terbaik, melihat dirinya di dalam tim ini belum pernah mendapatkan kesempatan untuk menjuarai The International bersama Team Secret.
Perjuangan Puppey untuk selalu berada di dalam turnamen The International pun tidaklah mudah, karena bersama dengan timnya ia harus berjuang lolos dari kualifikasi di setiap tahunnya.
Beruntung bagi dirinya, bersama dengan rekan-rekan timnya, ia selalu berhasil mendapatkan kesempatan untuk bisa bertarung memperebutkan gelar juara The International di setiap tahunnya.
BACA JUGA: [Road to TI10] 3 Tim Favorit Juara TI, Siapa Saja?
Puppey memulai karir Dota 2 nya bersama dengan tim NaVi secara terus menerus sampai tahun 2014. Bersama NaVi, Puppey berhasil mendapatkan gelar juara di TI1, dan juga bahkan menjadi runner up di musim-musim selanjutnya.
Setelah mendapatkan posisi yang kurang beruntung di TI4, Puppey pun memutuskan untuk berpisah dengan tim NaVi dan membangun Team Secret sampai saat ini.
Bersama Team Secret pun, Puppey berhasil memenangkan beberapa turnamen Major, seperti Shanghai Major 2016, Chongqing Major 2018, dan masih banyak lagi.
Kesempatan untuk bermain sebagai pemain all timers ini tentu tidak akan disia-siakan oleh Puppey, dan pastinya ia akan berjuang dengan maksimal sampai mendapatkan gelar juara TI yang sudah lama tidak ia genggam.
BACA JUGA: [Road to TI10] 5 Fakta Menarik Mengenai TI10, Penasaran?
TI10 Jadi Turnamen Nomor 1 dengan Prizepool Tertinggi
Turnamen yang sudah ditunda selama 1 tahun ini berhasil mengumpulkan total hadiah sebesar $40 Juta USD atau setara dengan 571 Miliar Rupiah, menjadi turnamen dengan prizepool tertinggi sejauh ini.
Prizepool tersebut terkumpul dari bulan Mei 2020, saat Dota 2 memberikan TI10 Battle Pass, dan sudah mencapai angka tersebut pada hari ke 136 setelah dibuka.
Juara pertama akan mendapatkan 45,5% dari total prizepool tersebut, di mana $18.208.000 akan bisa dibawa pulang oleh mereka yang pastinya akan memberikan banyak keuntungan untuk para pemain.
Ikuti linimasa RevivaLTV di YouTube, Instagram, Facebook dan Revivalpedia untuk mendapatkan informasi-informasi terbaru seputar esports.
Editor: Rafdi Muhammad
Related