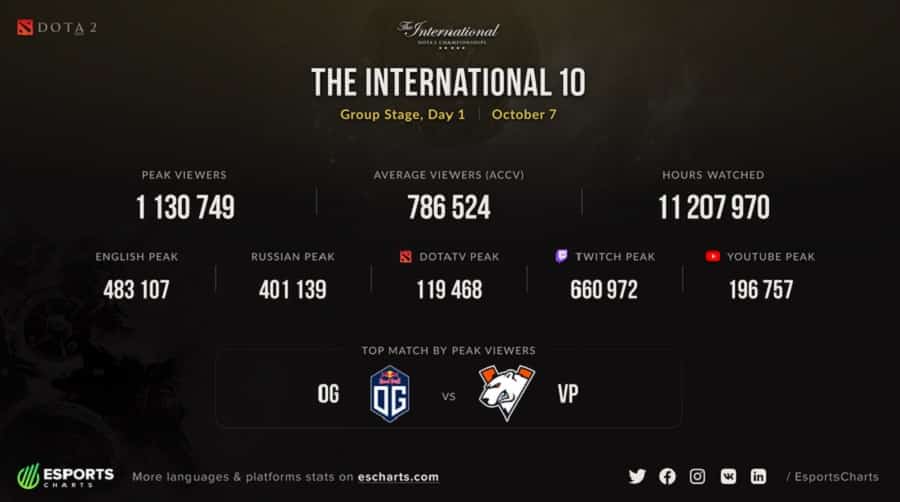 Turnamen TI10 yang sudah ditunggu-tunggu selama 1 tahun ini akhirnya sudah berhasil dimulai dengan kesuksesan yang besar jika dilihat dari jumlah penonton.
Dalam beberapa bulan ke belakang saat masih persiapan, turnamen besar internasional Dota 2 ini memiliki banyak sekali kendala yang harus dipersiapkan sebelum memulai pertandingan.
Di hari pertama pun mereka sempat dimulai dengan keterlambatan hampir 1,5 jam, tetapi hal tersebut tidak membuat para penonton pergi begitu saja, melihat jumlah peak views yang sangat besar.
BACA JUGA:Awal yang Buruk Untuk Debut Xepher dan Whitemon di TI10
Peak Views Babak Grup Hari ke-1 TI10 Sentuh Angka Besar
Dilansir dari data Esports Charts, jumlah penonton dalam pertandingan di hari pertama TI10 kemarin dengan jumlah total sampai 1,130 juta penonton yang hampir melampaui babak final TI8 yang menyentuh total 1,2 juta penonton.
Pertarungan antara OG dan PSG.LG D di TI8 ditonton oleh banyak sekali penonton dari seluruh penjuru dunia, dan sekarang di hari pertama TI10 jumlah penonton tersebut hampir terkejar.
Bahkan, pertandingan pertama antara OG melawan Alliance di day 1 kemarin menarik 437,9 ribu penonton, di mana sudah meningkat 40% dari pertandingan paling popular di hari pertama group stage TI9 antara Team Secret melawan Team Liquid.
Dari jumlah penonton ini didapatkan bahwa pertandingan antara OG dan Virtus Pro kemarin menarik banyak sekali penonton, membuat pertandingan mereka menjadi most popular match di group stage day 1 TI10 dengan total lebih dari 500 ribu peak views.
BACA JUGA: [Road to TI10] 1 Pemain TI All Timers Terakhir
Perlu diingat bahwa pertandingan untuk group stage ini terbagi dalam beberapa bahasa dan juga di waktu yang sama ada beberapa pertandingan yang dimainkan secara bersama-sama.
Oleh karena itu, para penonton bisa berpindah-pindah ke match manapun sesuka hati atau menonton langsung secara bersamaan. Dengan angka ini, maka menunjukkan bahwa ada banyak sekali peminat dari turnamen TI.
Pasalnya, turnamen ini sudah ditunda selama 1 tahun semenjak 2020 karena pandemi, maka saat kembali dilaksanakan, ada banyak sekali penonton yang sudah tidak sabar ingin melihat tim favorit mereka kembali beraksi di TI.
BACA JUGA: [Road to TI10] 2 Pemain Asal Indonesia yang Debut di TI10
Berbeda Tipis Dengan Worlds 2021
Saingan terbesar TI dalam pertandingan esports ada pada turnamen Worlds yang juga merupakan salah satu turnamen terbesar dalam League of Legends, dan turnamen tersebut pun juga sedang berjalan.
Dalam jumlah peak views hari pertama TI10 berbeda sangat tipis dengan jumlah peak views Worlds 2021 pada play-in day 3 tanggal 7 Oktober 2021 kemarin.
Worlds memiliki jumlah 1,144 juta peak views di mana hanya memiliki selisih 14 ribu penonton, di mana pertarungan antara DFM melawan Cloud9 menjadi most popular match.
Ikuti linimasa RevivaLTV di YouTube, Instagram, Facebook dan Revivalpedia untuk mendapatkan informasi-informasi terbaru seputar esports.
Editor: Rafdi Muhammad
Related