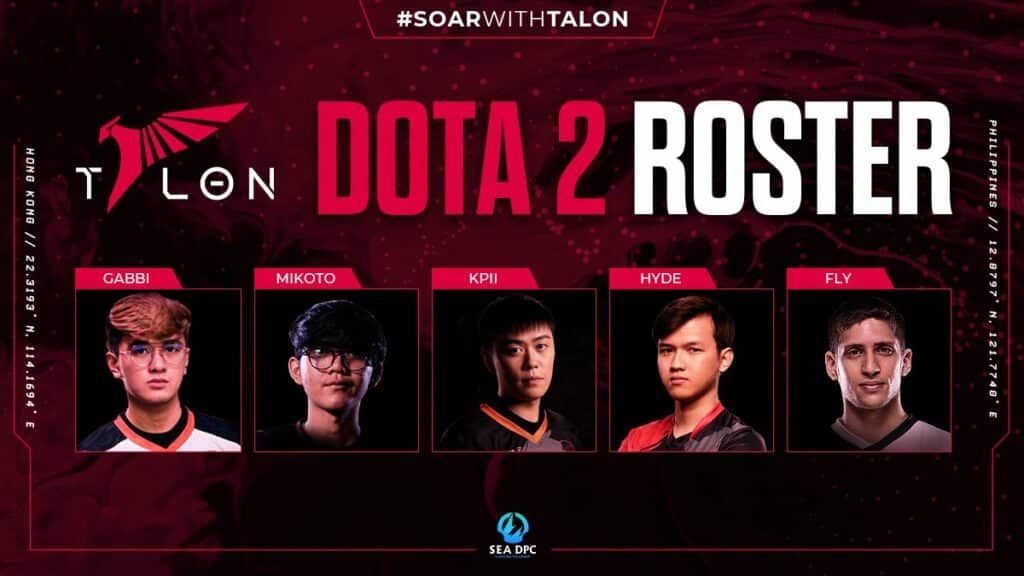 Talon Esports baru saja mengumumkan para roster untuk tim Dota 2, di mana ada Fly yang jadi kapten untuk Mikoto dan Hyde.
Scene Dota 2 Indonesia mulai disorot kembali, terlebih lagi setelah dua pemain dari Indonesia dapat bermain dalam turnamen internasional terbesar, The International.
Pengumuman hadirnya tim dari Hong Kong ini dalam scene Dota 2 tentu memberikan tantangan baru untuk tim-tim lainnya yang akan berhadapan dengan mereka. Dua pemain asal Indonesia juga sudah diumumkan masuk dalam roster mereka.
BACA JUGA: Pandangan Xepher & Whitemon Melihat Mushi Jadi Pelatih BOOM
Mikoto dan Hyde Bergabung dalam Talon Esports
Talon Esports merupakan tim yang sudah berjalan dalam beberapa divisi game seperti Arena of Valor, League of Legends, dan lainnya sebelum mengumumkan roster untuk game Dota 2 beberapa hari yang lalu.
Dari kelima roster yang diumumkan dalam tim ini, tentu ada dua nama pemain Indonesia yang tentu tidak asing di telinga para penggemar Dota 2 Indonesia, yaitu Mikoto dan Hyde.
BACA JUGA: Awal Mula Whitemon Bisa Bergabung Dengan T1
Kedua pemain yang sebelumnya bermain untuk BOOM Esports ini merupakan pemain Indonesia yang juga memiliki bakat yang luar biasa. Dengan bermain di tim barunya kali ini, tentu mereka bisa memperkenalkan scene Indonesia lebih besar lagi.
Dalam ucapan di website resmi Talon, Mikoto mengatakan bahwa Talon ini adalah tim internasional pertamanya, sehingga ia berharap bisa bermain dengan baik-baik saja sepanjang season yang sedang berjalan kali ini.
"Talon akan menjadi tim resmi internasional pertama saya dan karena ini roster pertama Talon dalam Dota 2, makas saya berharap kita bisa memberikan yang terbaik sepanjang season. Saya juga ingin bermain dengan rekan-rekan satu tim dan mendapatkan prestasi dengan Talon," ucap Mikoto.
BACA JUGA: Xepher & Whitemon Tanggapi Isu Betting Xiao8 di TI10
Pemain yang memancing perhatian lainnya adalah Fly, yang merupakan mantan kapten dari salah satu tim besar dalam scene Dota 2, Evil Geniuses. Memiliki pemain dari luar Asia dalam tim ini pun tentu akan memberikan pengalaman yang berbeda untuk rekan satu tim lainnya.
Sebagai pemain yang sudah berpengalaman dalam turnamen internasional Dota 2, ia mengatakan bahwa region SEA selalu dipandang sebagai salah satu region yang sangat kuat.
"Region Southeast Asia selalu menyentuh hati saya dengan para penggemar yang antusias dan kekuatan Dota yang menarik. Pastinya akan sangat intens, iya, tetapi saya akan menantikan untuk bertanding bersama dengan roster berbakat ini. Saya sangat bergairah untuk era baru Dota SEA," ujar Fly.
BACA JUGA: Marci Resmi Hadir di Dota 2, Ultinya Mirip Salam dari Binjai!
Talon Esports pun telah mengumumkan bahwa mereka telah bergabung dalam SEA DPC, dan akan bertanding dalam BTS Dota SEA region yang akan datang. Jangan sampai kelewatan jika ingin melihat aksi dari tim baru ini ya.
Ikuti lini masa RevivaLTV di YouTube, Instagram, Facebook dan Revivalpedia untuk mendapatkan informasi-informasi terbaru seputar esports.
Editor: Rafdi Muhammad
Related