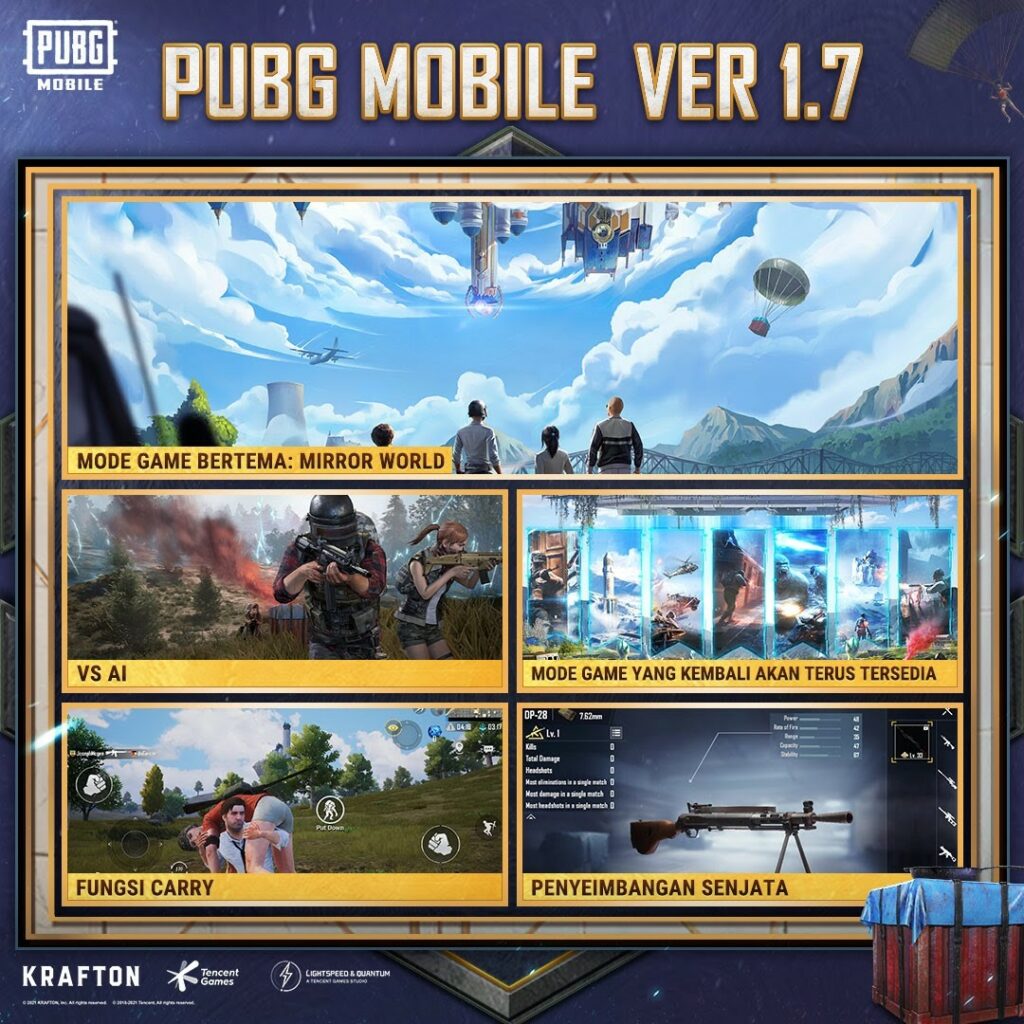 PUBG MOBILE Versi 1.7 akan segera tiba, menghadirkan kemitraan dengan game yang paling inovatif sampai saat ini, membawa sebuah gameplay baru dan inovatif hasil kerjasama dengan serial animasi League of Legends, Arcane.
Kemitraan ini akan membawa karakter-karakter baru yang dapat dimainkan, cerita yang misterius, gameplay unik, senjata baru, serta karakter yang mempunyai berbagai macam kemampuan, pemain akan melakukan perjalanan antara Erangel, Piltover, dan Zaun sebagai salah satu champion yang paling terkenal dari serial animasi Arcane.
Pembaruan Versi 1.7 juga menghadirkan fitur-fitur gameplay baru, fungsi carry, sistem terbaru dimana pemain bisa menggendong teman yang sedang knocked out, setelan outfit terbaru, diskon Cyber Week, dan banyak lagi kejutan yang akan diungkap nantinya.
BACA JUGA: Luxxy Prediksi 4 Tim West Ini Lolos Grand Final PMGC 2021
Dengan salah satu kemitraan paling ambisius yang pernah diperkenalkan ke dalam dunia PUBG MOBILE, pembaruan Versi 1.7 melihat salah satu elemen dari luasnya dunia Arcane, serial terbaru animasi League of Legends, memperkenalkan lokasi, karakter, dan gameplay dari universe League of Legends.
Dengan memilih 'themed mode' saat memainkan game Klasik di Erangel, pemain akan menemukan Mirror Island terapung yang besar dan misterius. Di awal permainan, Mirror Island dapat dijelajahi oleh pemain untuk mencari item, senjata maupun persediaan. Namun, saat permainan berlanjut, Mirror Island akan aktif dan menjadi sangat tidak stabil. Pemain yang bersentuhan dengan Wind Wall akan dipindahkan ke Piltover atau Zaun, dua kota ikonik dari League of Legends.
Pemain yang mendarat di Mirror Island yang sedang aktif juga akan dapat berubah menjadi Champion ikonik seperti karakter Jinx, Vi, Jayce, atau Caitlyn, dan menggunakan senjata dan keterampilan unik untuk bertarung melawan pemain lain. Pemain yang kalah akan kembali ke Erangel dalam bentuk aslinya.
BACA JUGA: Matthew Sebut Hanya 1 Tim Indonesia di Final PMGC 2021
Selain bertarung dan menjelajah di area baru ini, pemain juga dapat berinteraksi dengan para-Champion untuk mengungkap petunjuk tentang apa yang terjadi di dunia Arcane, dan membantu para Champions kembali ke dunia mereka sendiri sebelum terlambat. Sayangnya, Enforcers, Firelights, dan Berserker's juga telah memasuki dunia PUBG MOBILE, dan pemain harus menghentikan mereka agar tidak menyebabkan kekacauan.
Dengan menggunakan Pecahan Hex dan perlengkapan lainnya yang didapatkan dalam misi yang diberikan, pemain dapat menyelesaikan berbagai cerita misterius dan mengembalikan para–Champion Jinx, Vi, Jayce, dan Caitlyn kembali ke dunia Runeterra. Pecahan Hex juga dapat digunakan untuk membeli perlengkapan pertempuran seperti Stimulant Pack terbaru, yang memberi pemain kemampuan untuk memulihkan kesehatan setelah mengalahkan musuh, dan Paket Pendaratan, yang memberi pemain kemampuan untuk meluncur.
BACA JUGA: Rekomendasi 5 Gaming Gear AULA Paket Lengkap
Dari tanggal 23 November hingga 3 Januari, pemain juga dapat mengumpulkan Exploration Progress dengan memainkan pertandingan di Mirror Island atau Mode Klasik, dan dapatkan emotes dan item-item eksklusif Arcane, serta ciptakan kembali ultimate Champion Arcane.
Segera ajak temanmu dan rasakan pengalaman pertempuran terbaru di Mirror Island dengan Champion dari dunia Runeterra yang akan menyambangi PUBG MOBILE di Erangel pada 16 November 2021 ini!
Ikuti lini masa RevivaLTV di YouTube, Instagram, Facebook dan Revivalpedia untuk mendapatkan informasi-informasi terbaru seputar esports.
Related