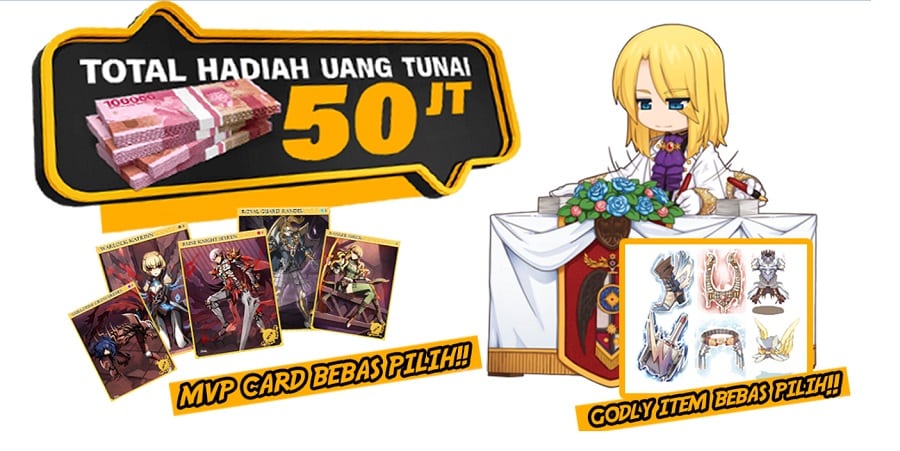 Di penghujung tahun 2021 ini, Ragnarok Forever Love kembali mengadakan kompetisi antar Guild di War of Emperium Season 5.
Bagi para pemain yang menggemari game RPG, tentu sudah tidak asing dengan game Ragnarok yang sudah sangat lama tersebar di telinga gamers. Beberapa franchise pun sudah dirilis sampai tahun 2021 ini, salah satunya adalah Ragnarok Forever Love.
War of Emperium adalah nama dari fitur PVP antar Guild di dunia Ragnarok dengan memperebutkan status kepemilikan kastil sebagai simbol kekuasaan.
BACA JUGA: Lokapala Rilis Ksatriya Baru Dalam Rangka Hari Pahlawan, Nio
Turnamen Guild Zone Of Emperor Ragnarok
Di Season 5 ini, Ragnarok Forever Love menghadirkan sistem kompetisi yang berbeda dari konsep Guild War sebelumnya. Sistemasi turnamen baru ini diberi tajuk Zone of Emperor!
Seluruh Guild harus mengumpulkan poin dengan menguasai kastil tertentu di setiap periode War of Emperium yang dilangsungkan setiap hari Selasa dan Jumat. Dan pada akhir periode event, 8 Guild dengan perolehan poin tertinggi akan maju ke babak playoff.
Hadiah yang disediakan oleh pihak Ragnarok Forever Love sangat melimpah, mulai dari uang tunai senilai total 50 Juta Rupiah, serta item in-game yang paling dicari oleh pemain Ragnarok, yaitu Godly Item dan MVP Card.
Game PC yang sudah lama dirilis untuk publik ini tentu akan menarik banyak sekali pemain-pemain dengan level yang sudah tinggi untuk bisa memenangkan turnamen guild kali ini.
BACA JUGA: Indonesia Jadi Tuan Rumah Untuk IESF Esports World Championship 2022
Informasi lengkap mengenai War of Emperium Season 5: Zone of Emperor dapat disimak melalui website resmi mereka, dan pertarungan antar guild akan segera dimulai pada tanggal 30 November 2021 nanti.
Ikuti lini masa RevivaLTV di YouTube, Instagram, Facebook dan Revivalpedia untuk mendapatkan informasi-informasi terbaru seputar esports.
Related