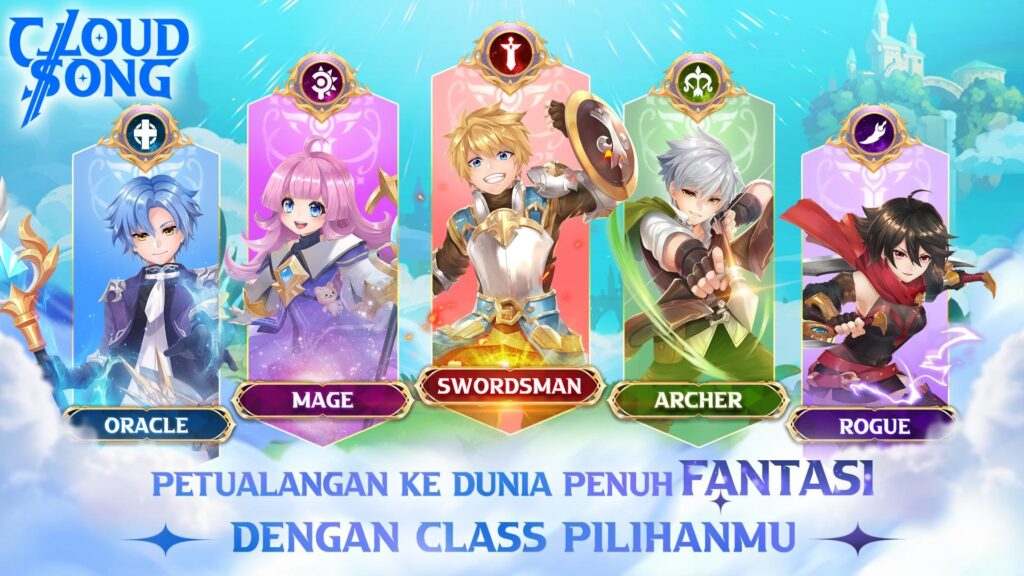 Cloud Song: Saga of Skywalker yang dirilis 8 September 2021 mendapatkan sambutan yang sangat meriah Asia Tenggara, berikut review yang didapatkan.
Semenjak perilisannya, sudah ada banyak sekali gamers RPG yang beramai-ramai memainkan game terbaru keluaran VNG Game Publishing ini, mencatat ada 1 juta lebih pemain yang melakukan pra-registrasi.
Kesuksesan ini tercapai berkat berbagai fitur-fitur unggulan yang dimiliki oleh game Cloud Song: Saga of Skywalker yang memiliki art style anime yag menawan. Salah satu fitur unggulannya adalah PVP dan PVE.
RevivaLTV mendapatkan kesempatan untuk bermain game RPG terbaru ini, dan melakukan beberapa review.
BACA JUGA: Esports Akan Masuk Kurikulum di Sekolah Kejuruan
Review Cloud Song: Saga of Skywalker
Grafik dan Gameplay yang Bagus
Melalui pengalaman bermain yang sudah dicoba, game Cloud Song menampilkan grafik yang sangat bagus untuk game mobile, terutama dengan konsep anime yang ditampilkan.
Hal ini pun sangat menguntungkan bagi para pemain dengan handphone yang tidak memiliki spesifikasi tinggi, karena dengan tampilan tersebut, engine yang diperlukan tidak perlu tinggi, dibandingkan dengan game RPG lainnya yang sudah semakin realistis.
Gameplay yang ditampilkan pun masih memiliki konsep MMORPG pada umumnya dengan gabungan antara hack and slash, sehingga pemain bisa mengontrol karakternya secara bebas.
Ditambah para pemain akan diberikan beberapa storyline seperti game RPG pada umumnya, meskipun beberapa cutscene terlihat kaku tetapi masih bisa terbilang bagus.
Cloud Song Sediakan Sistem Auto Farming
Cloud Song juga memberikan sistem auto farming yang merupakan sebuah fitur yang sering disediakan oleh banyak game RPG. Fitur ini memperbolehkan para pemain untuk bisa melakukan farming tanpa harus mengendalikan karakter.
Hanya saja setelah dicoba, sistem ini cukup tidak efisien dalam game Cloud Song, dikarenakan karakter tidak mencoba untuk menghindar saat melakukan auto farming, menyebabkan karakter kita akan menerima seluruh damage yang diberikan musuh.
Jadi untuk para pemain yang ingin meningkatkan level mereka dengan cepat, disarankan untuk mengendalikan karakter secara manual agar tidak mati secara sia-sia saat farming.
BACA JUGA: Ragnarok Forever Love Hadirkan Turnamen Guild Zone Of Emperor
Leveling dan Rank Up
Levelling dan rank up sangat berpengaruh dalam game RPG, melihat seluruh kemampuan karakter kalian akan semakin kuat seiring bertambahnya level karakter.
Dalam game Cloud Song, levelling semua bergantung sama pemilihan gear equip, pet, dan juga mount. Seluruhnya akan diringkas semua jadi sistem rating. Semakin bagus gear/pet/mount, rating kalian juga akan ikut naik.
Rating inilah yang akan jadi tolak ukur seberapa kuat karakter kalian nantinya sobat RevivaL. Meskipun begitu, biasanya dalam game RPG dengan sistem rating memiliki konsep tidak hanya tergantung dengan level kalian saja.
Terkadang equipment, pet ataupun mount kalian tidak bisa melengkapi kekuatan tersebut, kembali lagi ke build karakter kalian yang harus cocok dengan role yang dimainkan.
Pet yang Dapat di Evolve
Berbeda dengan game RPG lainnya yang memiliki pet, di Cloud Song peliharaan kalian dapat di evolve menambahkan status untuk karakter, dan juga skill yang semakin bertambah.
Pet memiliki empat tipe yang berdasarkan beberapa elemen pada umumnya, yaitu api, angin, tanah, dan peri. Masing-masing elemen memiliki keunikannya masing-masing.
Itulah beberapa review yang kita dapatkan dalam game Cloud Song: Saga of Skywalker, bagaimana kalau menurut kalian nih sobat RevivaL? Apakah tertarik dengan gamenya? Langsung saja download di Play Store atau App Store kalian ya.
BACA JUGA: Menguak Rahasia Kota Glast Heim di Ragnarok X: Next Generation
Ikuti lini masa RevivaLTV di YouTube, Instagram, Facebook dan Revivalpedia untuk mendapatkan informasi-informasi terbaru seputar esports.
Related