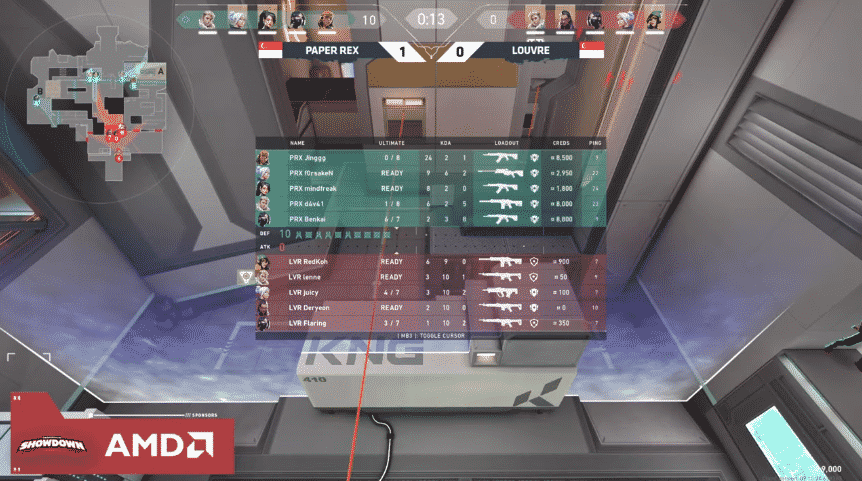 Bertahan di upper bracket quarterfinal hingga grand final, Paper Rex pulang sebagai sang juara di turnamen The Esports Club Showdown.
Setelah kalah dari BOOM di turnamen Royal SEA Challenge tepatnya di semifinal dengan skor 2-0, Paper Rex kini dapatkan kesempatan lagi di turnamen The Esports Club Showdown.
Mendapatkan kesempatan melalui jalur undangan, bukan hanya Paper Rex, juga ada 9 tim lainnya yang juga diundang ke turnamen tersebut untuk dapatkan total hadiah sebesar 15.000 USD.
Alter Ego juga turut hadir sebagai perwakilan dari Indonesia, mereka menggunakan sistem bracket eliminasi ganda dan bermain secara BO3 di setiap pertandingan, kecuali grand final yaitu BO5.
BACA JUGA: 3 Agent yang Sering Dipilih pada Turnamen VALORANT
Paper Rex Raih Juara di The Esports Club Showdown
Tim yang berasal dari Singapura ini memiliki pemain campuran dan ada 2 pemain asal Indonesia di dalamnya. Paper Rex memberikan hasil yang maksimal di turnamen kali ini.
Awalnya mereka menang mudah saat melawan Team Exploit, tetapi mereka sempat dapatkan perlawanan yang kuat dari Louvre di semifinal dengan kemenangan selisih skor yang tipis di dua pertandingan tersebut.
Saat di upper bracket final mereka harus bertemu dengan tim asal Indonesia yaitu Alter Ego. Paper Rex unggul sejak awal dan mampu mengalahkan musuh dengan skor 2-0 di dua pertandingan sekaligus.
BACA JUGA: Xepher Jadi Satu-Satunya Atlet Esports di Line Today Choice 2021
Alter Ego harus turun ke lower bracket dan harus melawan Louvre untuk dapatkan kesempatan untuk kedua kalinya menantang Paper Rex di grand final. Sedangkan Paper Rex menunggu di grand final.
Sayangnya Alter Ego harus pulang menjadi juara ketiga setelah kalah di lower bracket final dengan membawa pulang 2.000 USD dan Louvre berkesempatan melawan Paper Rex lagi.
Lagi-lagi Paper Rex dapatkan kemenangan berturut-turut pada pertandingan di turnamen ini. Mereka mampu kalahkan Louvre dengan skor 3-0 dan membawa pulang uang sebesar 7.000 USD.
BACA JUGA: 5 Pemain RL Mugen Resmi Berstatus Free Agent
Bagaimana menurut kalian tentang performa Paper Rex di turnamen The Esports Club Showdown yang berhasil mengalahkan Louvre 3-0 sekaligus?
Ikuti lini masa RevivaLTV di YouTube, Instagram, Facebook dan Revivalpedia untuk mendapatkan informasi-informasi terbaru seputar esports.
Related