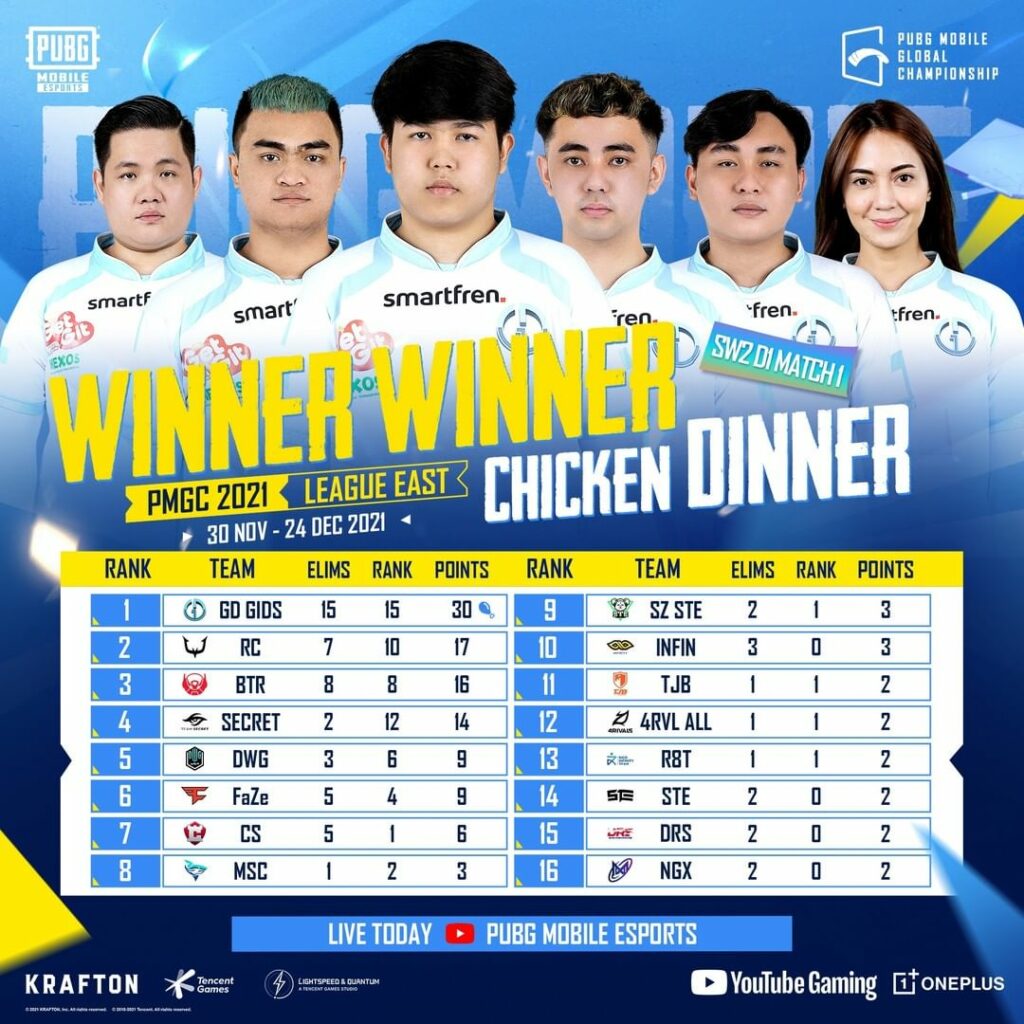 PUBG Mobile Global Championship (PMGC) 2021 wilayah east baru saja dimulai babak super weekend 2 day 1, Genesis Dogma GIDS dan Bigetron RA langsung bermain agresif sejak awal.
Bahkan secara menyakinkan Genesis Dogma GIDS mampu mempersembahkan WWCD perdana untuk Indonesia di babak super weekend.
Penampilan Bigetron RA juga dapat dikatakan cukup memuaskan dengan beberapa kali meraih posisi 3 besar.
BACA JUGA: Hasil GPSL Season 0 Global Pro League Day 4: Alter Ego Dione Mengamuk
Hasil PMGC 2021 East Super Weekend 2 Day 1
Pada ronde pertama Genesis Dogma GIDS langsung menunjukkan permainan yang menarik. WWCD total 30 poin akhirnya dapat dikantongi sejak awal hari.
MS Chonburi juga ikut mengamuk di ronde kedua dengan memperoleh WWCD total 27 poin, di susul Nigma Galaxy pada ronde ketiga mampu mengemas WWCD total 30 poin sekaligus.
BACA JUGA: Hasil GPSL Season 0 Global Pro League Day 3: Belletron ACE Terancam
Tim asal Korea Selatan yaitu Damwon Gaming bermain dengan penuh strategi dan kesebaran sehingga mereka berhasil meraih WWCD total 18 poin.
Memasuki ronde kelima The Infinity mulai terbangun dari tidurnya alhasil WWCD total 24 poin berhasil didapatkan dengan sempurna.
BACA JUGA: Hasil PMGC 2021 East Weekdays 2 Day 2: BTR RA Bangkit
Hasil klasemen hingga super weekend kedua saat ini berhasil dipimpin oleh The Infinity dengan total 209 poin.
4 Rivals masih bertahan di posisi kedua dengan total 187 poin, lalu Genesis Dogma GIDS menempel dengan ketat di posisi ketiga berkat total 186 poin.
Sedangkan Bigetron RA di hari pertama super weekend kedua mampu mengemas total 53 poin dan sementara berada di posisi 17.
Masih ada total 2 hari lagi atau 10 ronde lagi bagi seluruh tim terutama 2 tim asal Indonesia untuk memaksimalkan perolehan poin mereka.
Ikuti linimasa RevivaLTV di YouTube, Instagram, Facebook dan Revivalpedia untuk mendapatkan informasi-informasi terbaru seputar esports.
Editor: Rafdi Muhammad
Related