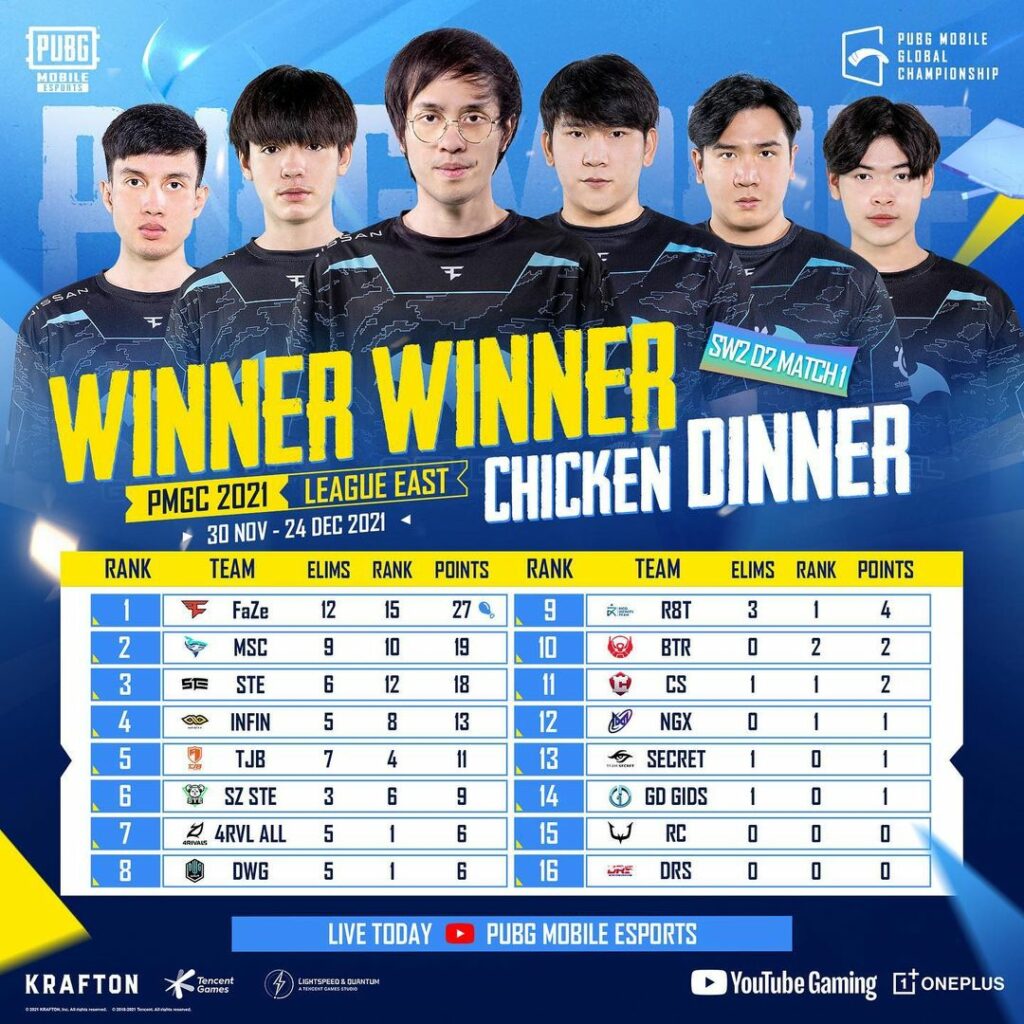 PUBG Mobile Global Championship (PMGC) 2021 wilayah east sudah memasuki babak super weekend 2 day 2, Genesis Dogma GIDS mampu bermain konsisten hingga mencapai posisi kedua.
Genesis Dogma GIDS bermain sangat baik dalam setiap rondenya terbukti mereka selalu mampu memaksimalkan peluang sekecil apapun untuk meraih poin penuh.
Bigetron RA juga semakin dekat dengan dengan posisi aman hanya saja mereka perlu berjuang lebih keras untuk hari terakhir super weekend kedua.
BACA JUGA: Hasil PMGC 2021 East Super Weekend 2 Day 1: Genesis Dogma Konsisten
Hasil PMGC 2021 East Super Weekend 2 Day 2
FaZe Clan mengawali hari dengan sangat impresif terbukti WWCD total 27 poin berhasil diamankan di ronde pertama.
Kembali lagi FaZe Clan mengamuk di ronde kedua setelah meraih WWCD total 22 poin dan menuntaskan perlawanan Genesis Doga GIDS di posisi kedua.
Nigma Galaxy mengembalikan momentum kejayaan mereka di ronde ketiga dan sukses mendapat WWCD total 27 poin.
BACA JUGA: Ryzen Puji Strategi Khusus Jangs Untuk BTR RA di PMGC 2021
Stalwart Esports menggila di ronde keempat dengan WWCD total 32 poin. Pada ronde ini Genesis Dogma juga berhasil menempati posisi kedua di perolehan poin.
Ronde kelima ditutup dengan pesta The Infinity melalui WWCD total 26 poin sekaligus memperkokoh posisi mereka di puncak klasemen saat ini.
BACA JUGA: Hasil GPSL Season 0 Global Pro League Day 4: Alter Ego Dione Mengamuk
The Infinity hingga sekarang masih di posisi pertama dengan total 260 poin, kemudian disusul Genesis Dogma GIDS di posisi kedua dengan meraih total 232 poin.
Bigetron RA tampaknya masih harus berjuang keras di hari terakhir super weekend kedua karena posisi mereka belum aman untuk melanjutkan perjalanan ke babak grand final PMGC 2021.
Ikuti linimasa RevivaLTV di YouTube, Instagram, Facebook dan Revivalpedia untuk mendapatkan informasi-informasi terbaru seputar esports.
Editor: Rafdi Muhammad
Related