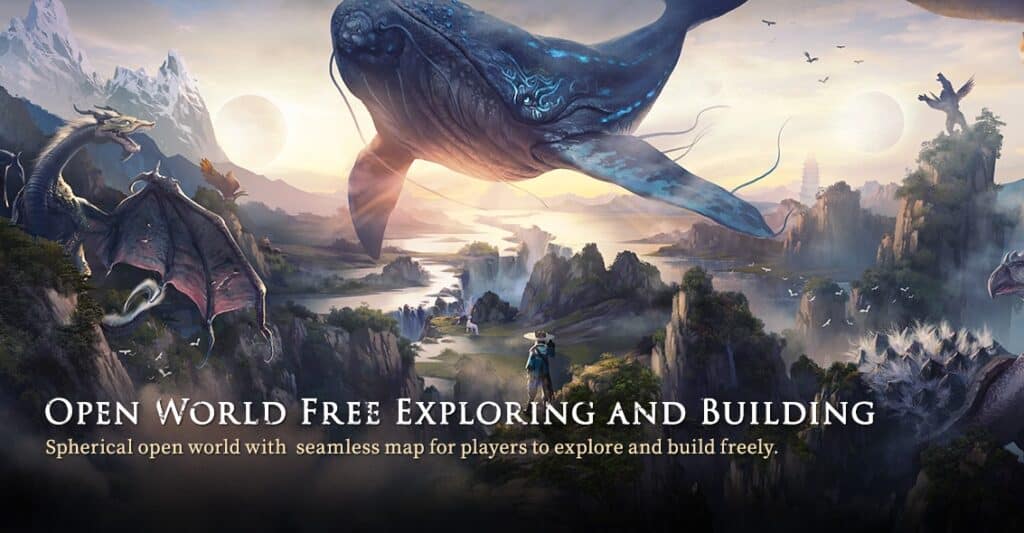 Chimeraland, sebuah game Open World inovatif berbasis Massively Multiplayer Online (MMO) yang bisa dimainkan di mobile dan PC, mulai tanggal 16 Desember 2021, resmi membuka tahap pra-registrasi di www.chimeraland.com.
Ada sejumlah aspek unik dari gim yang mungkin menarik bagi para gamer mobile dan PC saat ini. Salah satu fitur utamanya adalah fokus permainan yang mengangkat mitologi 'Timur', dengan inspirasi yang didorong dari 'Classic of Mountains and Seas', sebuah literatur Cina yang terkenal dengan binatang mitologi kuno.
Pemain akan memiliki kesempatan untuk menjelajahi dunia yang luas dan dalam prosesnya, akan bertemu dengan banyak binatang buas dan monster menarik yang dapat mereka kagumi, lawan, jinakkan, atau mengembangkan sosok 'Chimera' baru dengan karakteristik, bentuk, dan kemampuan individu.
Sistem ini, memberi pemain peluang tanpa batas untuk bereksperimen dan berimajinasi dalam mengkombinasi sebuah makhluk mitologi yang tak pernah dijumpai.
Dunia Chimeraland juga mempunyai sisi yang unik karena berbentuk bulat, seperti dunia nyata. Ini berarti bahwa pemain tidak akan pernah menemukan dinding yang tidak terlihat dan akan dapat menikmati petualangan nyata di lebih dari 4.000 kilometer persegi peta, yang mencakup empat benua, laut dan samudra yang dapat dijelajahi. Di atas benua utama, Night Sky adalah dunia lainnya, di mana pemain akan dapat mengunjungi dan menjelajahi saat mereka mengembangkan kemampuan mereka.
Phyllis, Producer dari Level Infinite berkata "Kami pikir Chimeraland akan benar-benar cocok dengan para gamer dan kami mendorong para gamer untuk melakukan pra-registrasi agar mereka tidak ketinggalan perkembangan apa pun sebelum game tersebut diluncurkan pada awal 2022.
Kami mendapat saran yang bagus dari pengujian beta kami yang semuanya sangat bersemangat untuk meluncurkan game secara resmi dan kami akan segera mengungkapkan lebih banyak informasi tentang hal itu. Berdasarkan pengujian kami, kami tahu bahwa Chimeraland akan memberikan pengalaman bermain game yang luar biasa terbuka dan bermanfaat, yang benar-benar dapat dinikmati oleh para gamer mobile dan PC."
BACA JUGA: Roster Baru Bigetron Astro, Mirip Seperti NXL Ligagame?
Chimeraland Menawarkan Imajinasi dan kreatifitas
Gim ini menawarkan sebuah kebebasan yang tak ada batasnya kepada pemain, seperti fitur membangun rumah yang dapat dikembangkan ke level selanjutnya. Hal Ini memberikan pemain kemampuan untuk membangun rumah pribadi mereka sendiri di setiap sudut permainan (termasuk di bawah laut) dengan ribuan modul dan gaya untuk dipilih, membiarkan pemain benar-benar mengembangkan imajinasi dan kemampuan kreatif mereka.
Hal lainnya yang ada di game ini adalah cara membesarkan Hewan Peliharaan Chimera yang unik dengan menggunakan "sistem alien" "melahap" atau "berkembang", yang memberi hewan peliharaan Anda bentuk unik dan kemampuan yang kuat. Mulai dari bentuk kelinci hingga raksasa berusia sepuluh ribu tahun, semua monster-monster ini dapat ditangkap sebagai hewan peliharaan.
Chimeraland adalah MMO, sehingga salah satu prioritas utama bagi para pengembang sesuai dengan visi game adalah untuk menciptakan 'dunia di luar imajinasi', memastikan bahwa para pemain dapat membedakan diri mereka secara visual dari pemain lain.
Akibatnya, pemain memiliki kemampuan untuk memilih dari lusinan ras yang berbeda, dengan penyesuaian karakter yang besar dan opsi penyesuaian. Secara desain, semua karakter memiliki akses ke ras dan kemampuan pekerjaan yang sama, sehingga pemain bebas membuat karakter aneh yang mereka inginkan tanpa batasan berdasarkan imajinasi mereka.
BACA JUGA: Moonton Hadirkan Mobile Legends: Bang Bang Women's Invitational, Mirip MSC!
Dapatkan Hadiah Menarik
Chimeraland menawarkan aksi Player versus Environment (PvE) dan Player versus Player (PvP) yang menantang. Mengalahkan binatang buas dan monster besar membutuhkan kerja sama tim, ketrampilan, dan peralatan yang tepat. Pemain dapat memilih dari beberapa senjata dan dapat dengan bebas mengganti selama pertarungan, menciptakan pilihan taktis dan strategis tanpa batas (terutama saat berkolaborasi dengan pemain lain), yang akan memastikan pertarungan tambah menyenangkan dan menarik.
Dapatkan hadiah seperti Cowries, Legendary Pill dan Pet Egg melalui pra-registrasi di situs resmi, dan apabila registrasi sudah mendapatkan jumlah yang ditentukan, pemain berhak mendapatkan HP Essence, Intelligence Pill, Lv. 2 Mount Skill Book dan hadiah mewah lainnya, senilai hingga 40 dolar. Selain itu, komunitas resmi juga mengadakan serangkaian kegiatan reservasi, partisipan bisa mendapatkan banyak harta virtual baru dalam game yang sangat berguna bagi para petualang!
Untuk mengetahui lebih lanjut dan melakukan pra-registrasi, gamer wajib mengunjungi www.chimeraland.com untuk detail lebih lanjut mulai 16 Desember dan seterusnya.
Ikuti lini masa RevivaLTV di YouTube, Instagram, Facebook dan Revivalpedia untuk mendapatkan informasi-informasi terbaru seputar esports.
Related