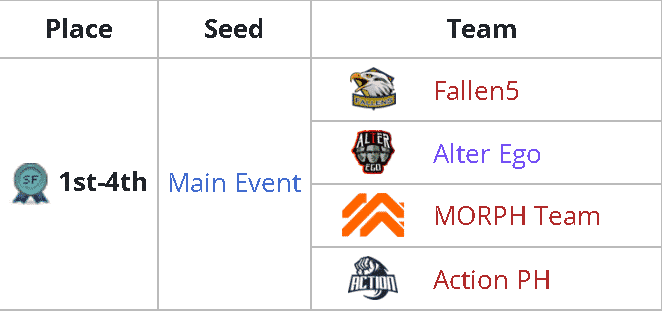 Bertanding sejak tanggal 13 Desember 2021, Alter Ego dan Morph berhasil lolos di turnamen TEC Challenger Series #6 – SEA Qualifier
Beberapa tim besar dari SEA hadir dan ikut berpartisipasi, terutama tim Indonesia yang kini tiba-tiba muncul yaitu Bigetron Astro dengan roster baru miliknya.
Selain Bigetron Astro, terdapat BOOM, Morph, BEAST dan Alter Ego yang berjuang dan bersaing untuk lolos ke turnamen utama di TEC Challenger Series #6 – SEA Qualifier.
Terdapat tim-tim SEA yang tidak asing didengar oleh para penggemar, seperti Bleed, Kingsmen, DivisionX Gaming, Fallen5, Nigma Galaxy, Big BAAM dan The Infinity Esport.
BACA JUGA: Roster Baru Bigetron Astro, Mirip Seperti NXL Ligagame?
Alter Ego & Morph Lolos Turnamen TEC Challenger Series #6
Hanya 4 tim yang bisa dapatkan slot ke turnamen utama, tentu bukan hal mudah untuk dapatkan slot tersebut, karena banyak tim-tim kuat yang berpartisipasi.
98 tim ikut serta dalam turnamen ini dengan sistem BO1 dan tim yang tidak mampu bertahan harus tereliminasi hingga 16 besar. Saat berada di 8 besar, mereka akan bertanding menggunakan BO3.
Beberapa tim Indonesia yang lolos ke 8 besar, yaitu BOOM, Alter Ego dan Morph. Ketiga tim tersebut berjuang untuk dapatkan slot ke qualifier..
BACA JUGA: Alasan IESPA Tidak Daftarkan Tim Wild Rift Ladies ke SEA Esports Championship 2021
Sayangnya BOOM tidak berhasil lolos, setelah kalah melawan tim Fallen5 dengan skor 0-2, tetapi untungnya kedua tim Indonesia yang lain berhasil menang dan babak qualifier sudah di depan mata.
Alter Ego harus berhadapan dengan tim kuat asal Malaysia, yaitu Kingsmen yang sering sekali bertemu dengan tim-tim Indonesia dan berhasil menang dengan skor 2-0.
Sedangkan Morph akan melawan The Infinity Esports, yang merupakan tim kuat dari Thailand. Mereka berhasil kalahkan musuhnya dengan skor 2-1 dan berhak dapatkan slot ke turnamen utama.
BACA JUGA: Singkirkan Gambit, Acend Menjadi Penguasa Leaderboard EMEA
Ada 4 tim yang lolos ke turnamen utama atau dapatkan slot dari jalur SEA qualifier yaitu Alter Ego, Morph, Fallen5 dan Action PH, bagaimana menurut kalian dengan keempat tim tersebut?
Ikuti lini masa RevivaLTV di YouTube, Instagram, Facebook dan Revivalpedia untuk mendapatkan informasi-informasi terbaru seputar esports.
Editor: Rafdi Muhammad
Related