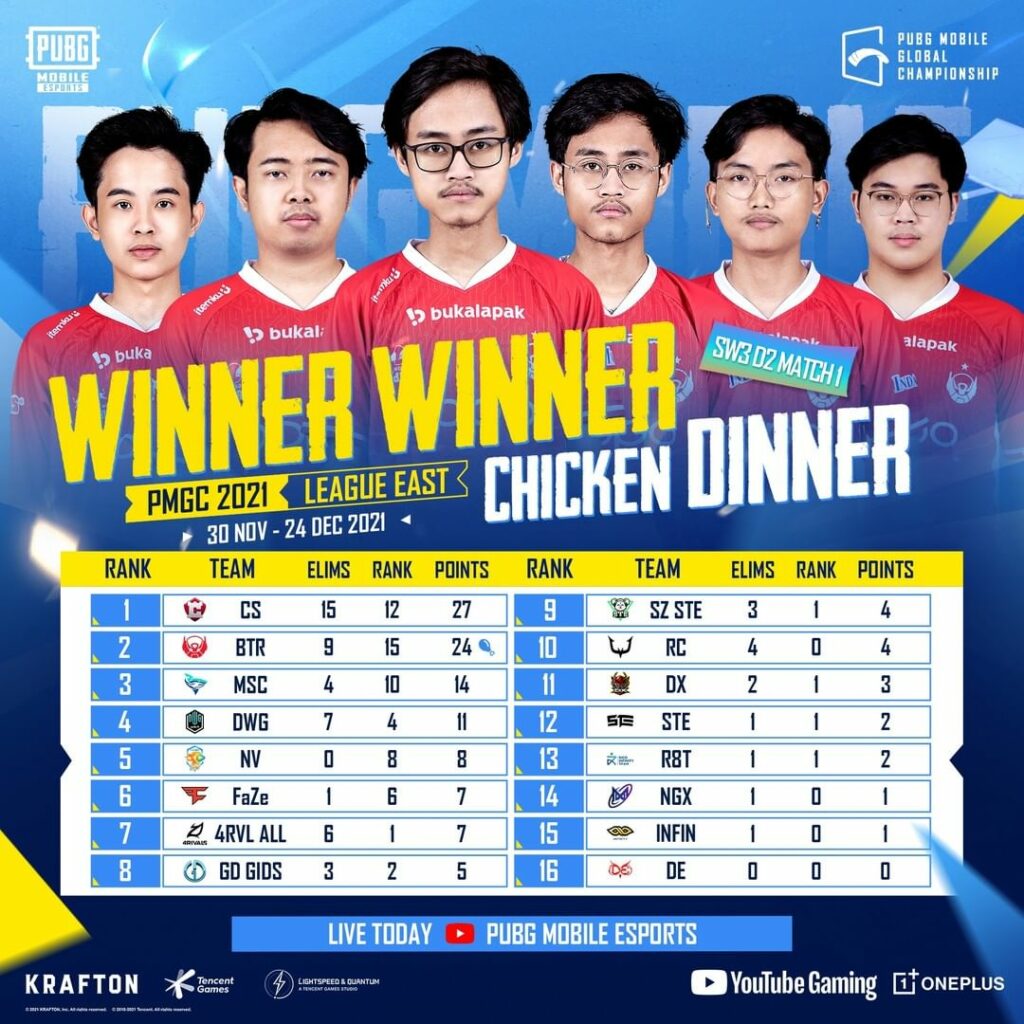 PUBG Mobile Global Championship (PMGC) 2021 wilayah east telah berlangsung babak super weekend 3 day 2, Bigetron RA tampil impresif dengan mendapat 2 kali WWCD sekaligus.
Bigetron RA tampaknya semakin mengamankan posisi mereka untuk menuju league finals.
Pasalnya pada hari kedua super weekend ketiga mereka menunjukkan performa yang sangat meningkat dibandingkan hari sebelumnya.
BACA JUGA: Hasil PMGC 2021 East Super Weekend 3 Day 1: The Infinity Perkasa
Hasil PMGC 2021 East Super Weekend 3 Day 2
Bigetron RA berhasil membuka hari dengan WWCD total 24 poin di ronde pertama. Capaian ini tentu saja yang sangat dinantikan oleh para penggemar.
Berikutnya D'Xavier juga ingin selamat dari posisi 4 terbawah sehingga pada ronde kedua mereka mengamuk dengan WWCD total 28 poin.
BACA JUGA: Bangpen Jelaskan Alasan Genesis Dogma Turunkan Blessing di PMGC 2021
Persaingan di papan bawah semakin ketat ketika Damwon Gaming mampu menutup ronde ketiga dengan WWCD total 22 poin sekaligus membawa mereka keluar dari 4 terbawah untuk saat ini.
Back to back WWCD bahkan berhasil diraih oleh Damwon Gaming tepatnya pada ronde keempat dengan perolehan 20 poin.
Secara meyakinkan ronde kelima berhasil diakhiri oleh WWCD dari Bigetron RA dengan koleksi total 29 poin.
BACA JUGA: 10 Tim Berhasil Melaju ke Grand Final GPSL Season 0
Sejauh ini The Infinity masih memimpin di puncak klasemen dengan mengumpulkan 445 poin. Kemudian disusul oleh Stalwart Esports di tempat kedua dengan perolehan 343 poin.
Sedangkan Genesis Dogma GIDS masih bertahan di posisi ketiga dengan total 336 poin dan Bigetron RA juga mampu naik ke papan tengah dengan akumulasi 210 poin.
Hasil ini tentu saja merupakan kabar baik bagi 2 tim asal Indonesia yang sejauh ini memiliki peluang besar untuk lolos menuju babak league finals.
Ikuti linimasa RevivaLTV di YouTube, Instagram, Facebook dan Revivalpedia untuk mendapatkan informasi-informasi terbaru seputar esports.
Editor: Rafdi Muhammad
Related