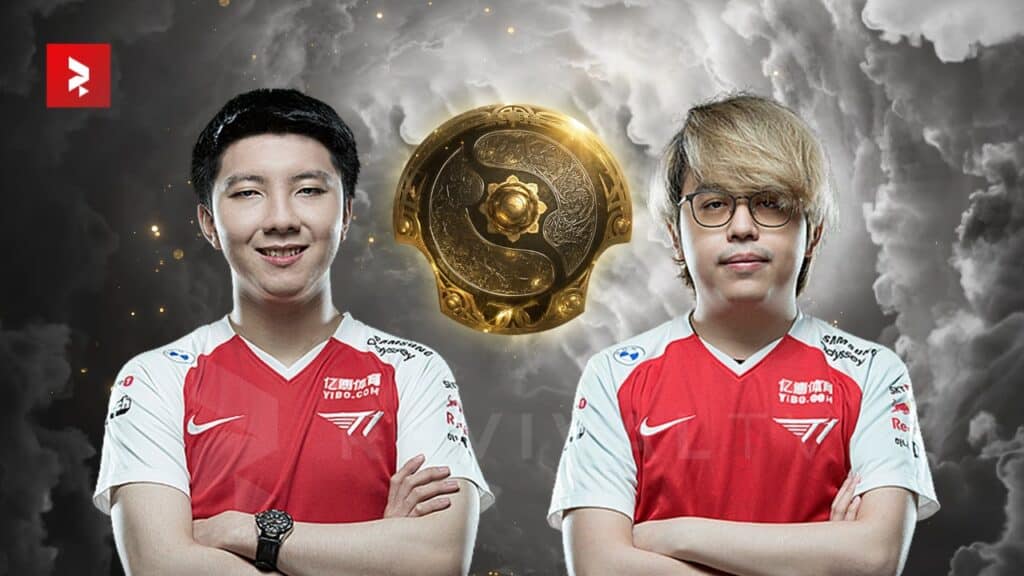 Esports Indonesia sudah berhasil berkembang dengan sangat besar dan pesat, pastinya di tahun 2021 ini negara kita sudah berhasil dipandang oleh dunia.
Melihat kompetisi esports yang sudah mulai sangat besar di seluruh dunia, Indonesia menjadi salah satu negara yang memiliki potensi untuk ikut membantu perkembangan esports ini.
Tim-tim Indonesia sudah banyak sekali yang berhasil masuk ke kompetisi dunia, dan RevivaLTV sudah mengumpulkan momen esports Indonesia berhasil dipandang oleh dunia.
BACA JUGA: Usai M3 World Championship, OHEB Sebut Target Selanjutnya
Momen Esports Indonesia Dipandang Dunia di Tahun 2021
Dua Pemain Indonesia Pertama di The International
Xepher dan Whitemon berhasil membawa nama Indonesia masuk untuk pertama kalinya dalam turnamen internasional terbesar Dota 2, The International 10.
Para penggemar Dota 2 pastinya sudah tidak asing dengan turnamen yang sudah berjalan selama kurang lebih 10 tahun ini, dan di 2021 dua pemain asal Indonesia akhirnya bisa berpartisipasi.
Bersama dengan tim T1, mereka bahkan berhasil lolos sampai ke babak main event dan keluar di posisi ke 7-8. Sebagai tim baru di TI, mereka bahkan berhasil mengalahkan beberapa tim besar seperti Alliance dan Undying.
MPL Indonesia Sempat Susul Peak Views Worlds 2021
Mobile Legends Professional League (MPL) Indonesia Season 8 berhasil mengumpulkan views yang sangat banyak, bahkan sampai menyusul peak views dari turnamen Worlds 2021.
Worlds 2021 sendiri merupakan turnamen internasional League of Legends yang sudah sangat besar, dan untuk sebuah turnamen regional, MPL ID Season 8 berhasil mengumpulkan penonton yang lebih banyak.
Selama pertandingan mereka berjalan, beberapa match besar berhasil menjadi salah satu match terpopuler pada bulan tersebut, dan di bulan Oktober ini mereka memecahkan rekor baru dengan angka 2,392,579 viewers.
BACA JUGA: Ada 2 Pemain Asal Indonesia, Ini 5 Top ACS APAC 2021 Versi Data Run It Back
MPL Indonesia Jadi Turnamen Terpopuler Selama 2 Bulan Berturut-turut
Selain mendapatkan peak views yang sangat banyak, MPL ID Season 8 berhasil menjadi turnamen terpopuler versi Esports Charts pada bulan Agustus dan September 2021.
Di bulan Oktober awal, MPL ID Season 8 ini sempat hampir menjadi turnamen terfavorit juga, hanya saja seiring berjalannya The International dan Worlds 2021, MPL pun harus turun ke posisi ketiga.
Hal ini membuktikan bagaimana turnamen Indonesia sangat memperlihatkan antusias mereka untuk mendukung tim favorit mereka dalam memprebutkan gelar juara.
Wolfpack Berhasil Memenangkan ALGS 2021
Tim asal Indonesia, Wolfpack, berhasil mendapatkan gelar juara dalam turnamen internasional Apex Legends Global Series 2021. Hal ini tentu menambahkan prestasi tambahan kepada esports Indonesia.
Wolfpack berhasil mengalahkan banyak sekali tim dari negara lain, bahkan negara Barat untuk menjadi juara dalam turnamen terbesar Apex Legends kali ini.
Apex Legends sendiri belum begitu besar di Indonesia, tetapi dengan Wolfpack berhasil memenangkan turnamen tersebut, tentu nama Indonesia sudah akan diingat oleh para tim dunia Apex Legends.
BACA JUGA: Xin Ungkap Perbedaan James & Acil Sebagai Pelatih RRQ Hoshi
Nah, itulah beberapa momen esports Indonesia berhasil dilirik oleh dunia nih sobat RevivaL, bagaimana kalau menurut kalian?
Ikuti linimasa RevivaLTV di YouTube, Instagram, Facebook dan Revivalpedia untuk mendapatkan informasi-informasi terbaru seputar esports.
Related