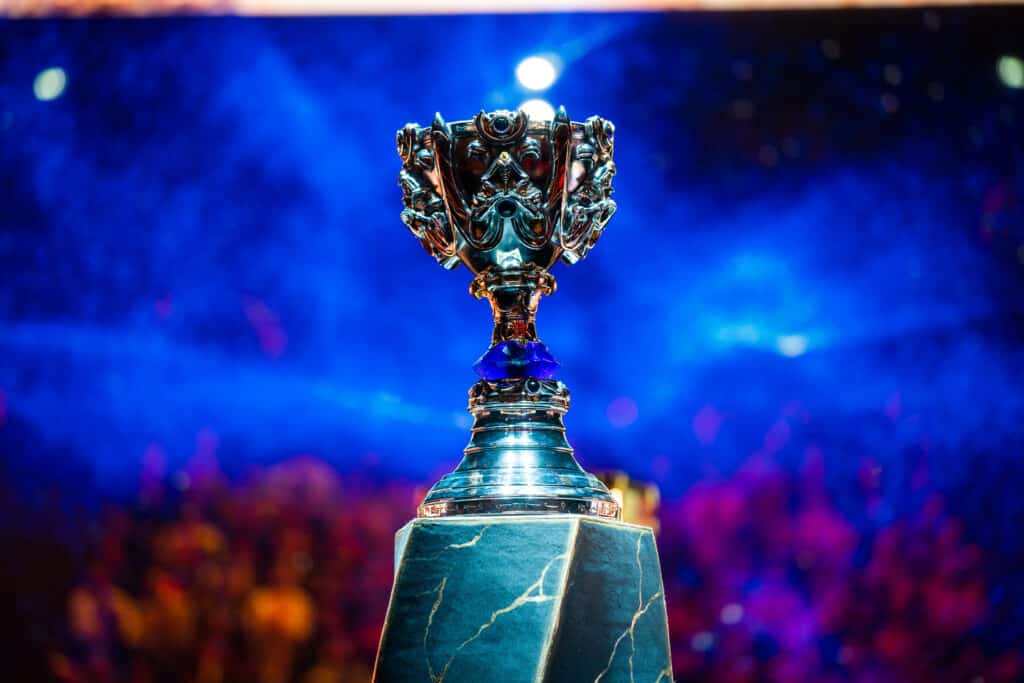 Turnamen esports sudah semakin beredar luas di seluruh dunia, dan di tahun 2021 ini ada banyak sekali turnamen yang memiliki prize pool tertinggi yang menggiurkan.
Semakin berkembang esports di dunia, tentu saja peminat akan datang semakin banyak. Para developer game pun meningkatkan prize pool turnamen, agar para pertandingan akan semakin kompetitif.
RevivaLTV berhasil mengumpulkan 5 turnamen yang memiliki prize pool tertinggi di tahun 2021 kali ini.
BACA JUGA: fl1pzjder Berikan Tips Menggunakan Agent Breach di VALORANT
Turnamen Esports dengan Prize Pool Tertinggi
5. Worlds 2021 ($ 2.225.000)
Turnamen internasional terbesar League of Legends ini memberikan hadiah yang sangat besar kepada para peserta di tahun 2021 kali ini.
Worlds 2021 berhasil dilaksanakan secara offline di Reykjavik, Islandia. Turnamen tersebut mengumpulkan total hadiah sebesar 2,225,000 USD atau setara dengan 31 Miliar Rupiah.
EDward Gaming, tim asal Tiongkok pun berhasil mendapatkan gelar juara dunia mereka di turnamen besar ini dan membawa pulang 6 Miliar Rupiah.
4. The Six Invitational ($ 3.000.000)
Game Rainbow Six Siege sudah sangat memancing banyak sekali pemain, dan tentunya melahirkan beberapa tim profesional. The Six Invitational merupakan salah satu turnamen internasional terbesar.
Di tahun 2021 ini, The Six Invitational mengumpulkan total hadiah sebesar 3 Juta USD atau setara dengan 42 Miliar Rupiah, dan diselenggarakan di kota Paris, Perancis.
Tim asal Brazil, Ninjas in Pyjamas, berhasil membawa pulan lebih dari 30% total prize pool yang sudah ada, mendapatkan 14 Miliar Rupiah sebagai juara dunia Rainbow Six Siege terbaru.
BACA JUGA: [Kaleidoskop 2021] 4 Momen Esports Indonesia Berhasil Mendunia
3. The Overwatch League 2021 Playoffs ($ 3.200.000)
Overwatch mengadakan turnamen internasional untuk game mereka dan mengumpulkan 20 tim profesional dari Barat dan Timur. Total prize pool terbesar berada pada babak playoffs, juga sebagai penentuan juara.
Salah satu turnamen besar dunia ini mengumpulkan 3,2 Juta USD sebagai total hadiah, atau setara dengan 45 Miliar Rupiah. Pastinya para tim akan bertanding dengan semangat melihat total hadiah tersebut.
Tim asal Tiongkok, The Shanghai Dragons, berhasil menjadi juara pertama pada turnamen besar ini mengalahkan Atlanta Reign dan membawa pulang hadiah sebesar 21 Miliar Rupiah.
2. PUBG Global Invitational.S 2021 ($ 7,056,789)
Turnamen internasional terbesar dari Playerunknown's Battlegrounds (PUBG), juga merasakan hal yang sama karena PUBG Global Invitational.S harus tertunda pada tahun 2020.
PUBG akhirnya berhasil melaksanakan kembali turnamen internasional mereka secara offline di Korea Selatan dan mengumpulkan total hadiah sebesar 7 Juta USD atau setara dengan 100 Miliar Rupiah.
Tim asal Amerika, Susquehanna Sonic pun berhasil keluar sebagai juara dan membawa pulang hadiah sebesar 18 Miliar Rupiah.
BACA JUGA: [Kaleidoskop 2021] 4 Tim Free Fire Indonesia Terbaik
1. The International 10 ($ 40,018,195)
The International 10 berhasil menjadi turnamen yang memiliki prize pool terbesar sepanjang sejarah esports di dunia, mengumpulkan total hadiah sampai 40 Juta USD atau setara dengan 570 Miliar Rupiah.
Dengan total hadiah tersebut, bahkan tim yang berada di posisi terakhir main event saja sudah mendapatkan total hadiah sebesar 8 Miliar Rupiah, yang pastinya sudah sangat tinggi.
Team Spirit yang baru berpartisipasi dalam turnamen The International ini berhasil mendapatkan gelar juara dan membawa pulang hadiah sebesar 259 Miliar Rupiah.
Nah, itulah beberapa turnamen dengan prize pool tertinggi di tahun 2021 kali ini sobat RevivaL, menggiurkan bukan?
Ikuti lini masa RevivaLTV di YouTube, Instagram, Facebook dan Revivalpedia untuk mendapatkan informasi-informasi terbaru seputar esports.
Related